(DC Comics, 2014)
Writer: Jeff Lemire
Artist: Mike McKone
Colorist: Marcelo Mailo
Justice League United #1 keeps the action building from last months zero issue, as this new DC Comics series by writer Jeff Lemire and artist Mike McKone continues to forge the team of superheroes that will become Canada's own version of the Justice League.
While attending a convention in Canada, Stargirl and Animal Man agreed to help Dr Alan Strange find his fiancé, Alanna Lewis, who suddenly went missing after they began investigating an archaeological dig in Northern Ontario. Stargirl and Animal Man accompanied Alan Strange to the dig where they where attacked by strange aliens. Green Arrow and the Martian Manhunter arrived to help and together they discovered the alien's underground base. Now they must find a way to defeat the fail-safe measures the aliens have unleashed, an unstoppable hybrid force called the Unimaginable. Meanwhile on the Moon of Thalsalla, where the aliens have been conducting their sinister experiments, Hawkman must fight Lobo as he attempts to free the alien's prisoners…
Just like last months Zero issue, Jeff Lemire throws us right into the thick of the action with Justice League United #1, as the second part of this new Justice League Canada storyline sees the JLU faced with stopping the Unimaginable. I really like how Lemire doesn't allow things to get bogged down with needless exposition and contrivances to bring all these characters together, instead we just have our heroes in the right place at the right time, and we get a very natural sense of progression as we witness the team developing and working together. Indeed, there is a great dynamic within is the team already, especially between Green Arrow and Animal Man, their banter is great and fun and really highlights the lighter tone that Lemire has quickly established with Justice League United.
Adam Strange also gets to don his spacesuit and jetpack this issue. While the more traditional aspects of the characters origin seem to have been bypassed, the scenes were he first uses the jetpack are still quite fun, and it will be interesting to see how the character develops. Unfortunately this titles other new character, Equinox, doesn't even appear in this issue, which is real a shame as her impressive debut in issue #0 was steeped in horror and mystery. However, on the plus side, there is a very interesting dynamic developing between Stargirl and the Martian Manhunter, which links in well with the traumatic events they endured during Forever Evil.
Mike McKone's art for Justice League United continues to impress, I like how the framing varies from scene to scene, with some panels being decidedly off kilter, creating a frenetic sense of motion at key point during the action. There is an impressive page where Adam Strange soars into the sky for the first time, we also see Hawkman as he confronts the cutting edge of Lobo's wrath, and the Martian Manhunter really gets to flex his muscles as he delivers on hell of a knock out punch towards the end of the issue. Colorist Marcelo Mailo accentuates some of the more violent moments with vivid splashes of color, while cooler tones highlight the Canadian setting of Ontario perfectly, and the scenes on the Moon of Thalsalla shimmer with a spooky alien quality as Alanna's escape attempt leads to her uncovering the secret of the alien's experiments.
Justice League #1 is an exciting issue, with good art, and this new team of characters really work well together. This new Justice League title continue to show a lot of promise for the future, with its more light hearted and adventurous style, Justice League United is shaping up to be a highly entertaining and fun team book.
___________________________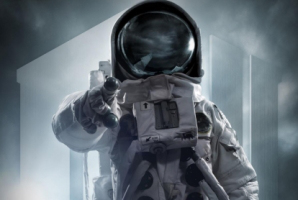 Paul Bowler is a self-Confessed Sci-Fi Geek, Doctor Who fan, and Zombie Disposal Expert. He likes movies, comic books, and all things PS3. He likes to write about his interests, would love to write a novel one day, and also enjoys chatting to the many people he has gotten to know on Twitter. When he's not busy being an Impossible Astronaut, he likes to take a break from his adventures in time and space to enjoy some of his favourite tv shows and movies – preferably with a nice cuppa tea & a sandwich! You can follow him on Twitter @paul_bowler, or find him at his website, Sci-Fi Jubilee.