I hope you all are in the midst of a post-NCBD slumber, snoozing beneath the spread leaves of the comics you passed out reading last night, your head resting lightly on those yet to be opened, their bindings still crisp and staples shiny.  For the rest of us the week wears on, and next week's NCB day looms.
Next week, on April 16, Bandette #7 is scheduled to release.
I've been absent from the BrainTrust for a bit now, but I return now, in huge, Monekybrain-ed fashion, not to preview a book, but to tell you why you should be reading Bandette.
Arguably one of Monkeybrain Comics favorite titles, Bandette tells the story of young Maxime Plouffe, a thrill-seeking fearless thief who is known by her alias Bandette.  Written by Paul Tobin (Marvel Adventures, Colder), Bandette has a European feel to it; from the dropping of French phrases to the pastry shops and eclectic transportation (Bandette rides a scooter) Tobin succeeds in giving the lighter feel that European comics have.  And that feeling, that lightness, is exactly why you need to be reading this book.
Today's comics are often filled with heavy themes.  Thanks to Frank Miller (and I do mean thanks) comics have become a medium where the "big" ideas are being explored, where a character is not a caricature, and where the idea of a hero being conflicted is about as common as a zombie on the set of The Walking Dead.
Bandette has brought the "comic" back to comic books.
Don't forget that they're called "comic" books.  They were originally meant to help us have a good time, a couple of laughs, to forget about all the nasty crap that goes on in real life.  Some of that has been forgotten in the last twenty years.  Bandette, in the way she is written and the accompanying art, is light, airy, and careless in a way that makes you wish you were careless too. (Bagandbored.net does not condone any careless action on the part of readers of this review, and will not be held responsible for actions taken if impersonating a comic book character.)
Colleen Coover (Batman '66, X-Men First Class) brings a heavy dose of that feeling with her artwork.  In Bandette she chooses to work in a watercolor style, enforcing that Parisian feel to the book and at the same time keeping the style from devolving into shadows of black and grey.  Her characters, sometimes almost caricatures, of Belgique, the policeman, remind me of early Dennis the Menace comic strips.  She takes Bandette and, even while in the midst of conversations with her compatriots, has her dancing across wires, leaping, performing.  That's a big part of her character.  The thrill of the chase isn't worth anything if you can't be seen doing it and doing it with style.
In the first six issues we get a good feel for the characters and setting, but mostly for Bandette, who is the glass through which this world is seen.  Even the most cunningly cruel villain, Absinthe, seems lighter through her lens.  She is a child in the best way, young enough to be unafraid and completely overconfident at all times, living in the moment, completely unaware, or more likely concerned, with the future.  She is id personified.
Just one quick note on the structure of the book.  The recap has become common in comics, the "in our previous episode" kind of thing that TV shows run in the first thirty seconds of a new program, but the folks at Bandette have perfected it.  The first page gives you pictures from the previous issue with a short caption that recaps the whole story.  You end up with a good idea of what has happened, and an introduction to the characters, so that if you're a new reader there should be little problem in jumping in on the series at a later time.
That being said, go out and get the first six before next Wednesday, when number seven drops like the hottest jewel thief on the other side of the ocean.
Bandette is caprice, she is the wind, and we've no idea where she will blow next.  Thank you to Paul Tobin and Colleen Coover for reminding me that, despite how much I may love them, comic books don't have to have any deep, brooding mystery about them.  Bandette has returned whimsy to comic books, and the medium is better for it.
All issues of Bandette are available from Monkeybrain Comics' Store on ComiXology.
___________________________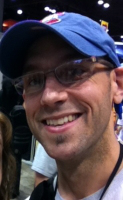 Brad Gischia is a writer and artist living in the frozen Upper Peninsula of Michigan. He is married and has three kids and a dog, who all put up with his incessant prattling about comic books.