(Marvel Comics, 2014)
Written by Dan Slott
Artwork by Mike Allred
Color Artwork by Laura Allred
Lettering by Clayton Clowes
The very first "expensive" comic book I purchased was the now classic, Fantastic Four #48 which introduces the Silver Surfer.
Created by Jack Kirby, the Surfer made his debut in 1966 as a collaborative result of the "Marvel Method" which was created by Jack Kirby with his prolific creative partner, Stan Lee. The book cost my grandparents a whopping eight dollars which in retrospect is a mere pittance but in 1977 for a nine year old to spend that kind of loot on a single comic book, one that had already been read, many times was just about unheard of. I kept that book in a plastic photo album sleeve inside a suitcase along with the other prized pieces of my budding comic book collection and my Mego figures (or as my grandmother so callously referred to them, my dolls), not unlike a briefcase full of treasure from some old jewel heist movie. These were the days before bags, boards and long boxes; this was just a shaggy haired kid in the 70's and his suitcase full of sequential art dreams. This began a lifelong infatuation with the Surfer that has not diminished since those lazy afternoons spent with the contents of my blue vinyl suitcase. Fast forward 37 years and here once again we find ourselves at another milestone in the illustrious history of the Silver Surfer; a new series with an imaginative creative team at the reins, Dan Slott and Mike Allred with colors by Laura Allred.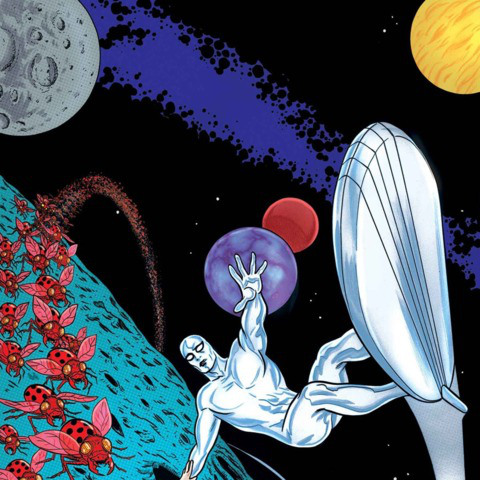 This series has an eclectic feel that seems to be a fixture of Mike Allred's work. He has a quirky style that melds realism and cartooning in a way that is uniquely his own. Allred's extensive body of work maintains an indy sensibility even when he is working for one of the bigger publishers. Here he brings some of the otherworldliness he imbued his Madman series with to the Marvel Universe. Allred's take on the Surfer is imaginative in the way a Dali painting is imaginative, he challenges our pre-conceptions and ultimately replaces them. This is the guy you want on a book like this, a book with cosmic elements and characters that have powers beyond our imaginations.
The story begins by introducing Dawn and Eve Greenwood; twin girls with vastly differing views on just about everything. They live in Anchor Bay and as far as Dawn is concerned that is where she wants to live out her entire life. Eve on the other hand has been bitten by the adventure bug from a very young age and travel is at the top of her to-do list. She wants to see the world and all it has to offer. Meanwhile, the Surfer aka Norrin Radd is off riding the space ways on a wave of deep contrition as he tries to make amends for the unspeakable horrors he was forced to partake in as the herald of Galactus. He is tracked down by a pair of Cambots from the Impericon who have just witnessed the Surfer in an act of heroics as he re-ignited the micro-star of Bundlebus 3. This makes him a perfect candidate to save the endangered Impericon. However in order to gain his compliance the local inhabitants have resorted to extortion; in order to ensure the Surfer's assistance in their desperate endeavor they have kidnapped someone important to him. Then, as they say, worlds collide as Slott cleverly weaves the two threads into a single narrative.
Dan Slott seems to have a solid grasp on these characters and Allred's eccentric style has obviously influenced his writing. The two seem to have already obtained a kind of self-perpetuating chemistry that drives the narrative to that next level of David Lynch-like strangeness. The whole book has a dream like feeling to it that is enhanced by Laura Allred's vibrant colors which lend an almost psychedelic look to some of Mike's more intricately designed settings like the Impossible Palace. This is rendered in a meticulously detailed two page spread that is one of the issue's many visual highlights.
Overall, Slott and Allred do a fine job of setting up the inaugural arc. There is lots of introductory exposition as well as some concise back story however it is all written in an entertaining fashion and at an engrossing pace. There are certainly no dull moments in this issue. Mike and Laura Allred are spot on perfect choices for this title. Their collaborative work on FF with Matt Fraction, as excellent as it was, is a precursor for the phenomenal results they achieve here. I am fully on board for this cosmic journey, wherever it may lead. This is not high concept science fiction like some of the previous Silver Surfer books although it certainly qualifies as sci fi albeit in more of a Red Dwarf vein.  This is a more reader friendly, less jargon heavy version of the genre. I recommend this book to anyone reading Nova or Guardians of the Galaxy. This is great art, engaging writing and lots of fun.  Check it out. (4/5)
___________________________
Click Image to Purchase "Silver Surfer" #1 From Amazon.com: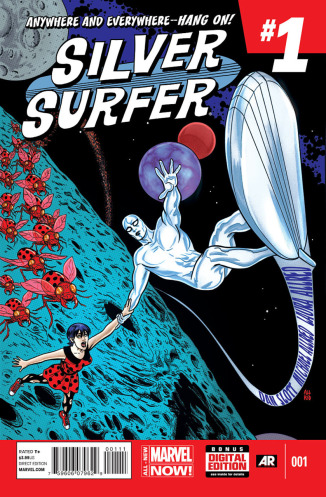 ___________________________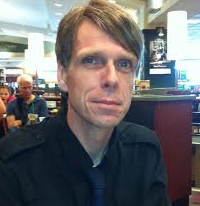 Shawn is an aspiring writer/ artist who has been reading, collecting and living comic books for over 30 years. He lives in Baltimore with his wife, their son, lots of cats, dogs and other various finned and furry friends.