(IDW 2015)
Writer: Kelly Thompson
Artist: Emma Vieceli
Colorist : Victoria Robado
Letterer: Tom B. Long
This was my first glimpse at the world of Jem. I know it was a big deal in the 80's (of which I am a child of, but was more into He-Man etc to watch a "girl show") Actually, I might have checked it out back then, except I really don't recall ever seeing it on. But anyway, this is a modern revamp of the 80's property, something we see a lot of these days. I'm not always in the mood for a remake/revamp, but my unfamiliarity with the show and the general high quality and "newness" shown here makes me feel that this is a fresh book. It doesn't feel dated at all, and is a welcome revamp in my book.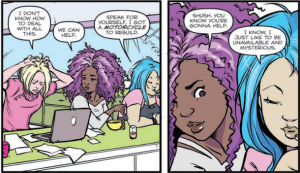 At it's core, it's the story of a band, one that seems to have a pretty serious amount of problems ranging from looking over contracts, to competing with a rival band that is bent on taking them down. Comics about music are interesting to me, because due to the silent nature of comics, you can never 'hear' the band (or maybe everyone hears them differently in their head?). I've done some music themed comic work myself, and I just find it interesting that we are sometimes drawn to making comics about something that is best enjoyed with the ear, and not the eye. From this issue, Jem reads somewhat like a soap opera style drama with music, intrigue, elements of romance, and comedy. I was struggling a little to figure out who is who in the middle of a book like this with a lot of characters, but I felt like everyone had a well thought out and established personality. I was just playing catch-up trying to get to know these girls.


I read all the way through the letters page, where one letter from "Stephanie W." described the book very succinctly as "a girl-positive, multi-ethnicity, body-type-accepting, LGBTQA-friendly book." which says a lot really considering this is mainstream comics we are talking about. My instinct would be to support this book just based on it being a book that has all the qualities Stephanie W. described, but that doesn't matter because this book deserves support solely based on the quality of the work; which is very high. The writing is nuanced and the characters very relatable, the characters act and speak like real people. This particular issue was light on action, and very much more about characters interacting and relating, as well as setting up conflict that is coming down the road for Jem and the Holograms. This is not a complaint, I am glad to see comics that break from the formula, and reward long time readers by pacing it appropriately for the story they want to tell without having to have a bunch of action sequences shoehorned in where they don't belong.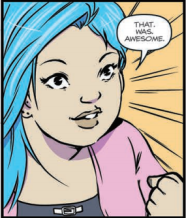 I enjoyed this issue, and thought everything about it was solid and entertaining. I liked the art quite a bit, and as I understand it, the previous issues were drawn by Sophie Campbell, not Emma Vieceli. The letters column states that Sophie Campbell will return for the next arc, so I'm not totally sure what's happening there, if they have a rotating artist situation or if Vieceli is a short term fill-in, but it does seem that they are planning accordingly for story arcs, so that provides some continuity. I checked out some of Campbell's art on Jem, and it's top notch as well. I did notice that Vieceli made use of vertical inset panels several times for scene transitions, and I thought it was a cool effect. I think my only complaint, and it's a small one, is that the coloring sometimes felt a little washed out for my taste. The colorist, Robado, did seem to handle multiple skin colors and wild hair colors very well though, and had a great palette, it just felt desaturated at times. See? It's a minor complaint in an overall very well done book featuring a story and characters that normally don't get spotlighted in most other mainstream comics. I fully endorse checking out this great book.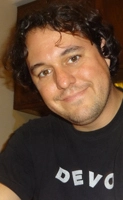 BJ DuVall is a novice comic creator, and nerd. He likes to spout opinions, whether people like to listen or not. Usually not.