(Dynamite Entertainment 2016)
Writer: Corinna Bechko
Art Roberto Castro
Colors: Alex Guimaraes
Letters: Simon Bowland
Cover A: Felipe Massafera
Cover B Roberto Castro & Dinei Ribeiro
Lords of The Jungle #6 provides an exciting finale for Tarzan and Sheena's adventures, as they square off in London against a woman whose existences shouldn't be possible, and a crazy cult with incredible technology.
Tarzan and Sheena have found it challenging to work together as a team, to say the least, fortunately with Jane's help they still have a fighting chance to protect their homelands, but will they be able to save themselves and their entwined futures in time, or will history be irrevocably changed forever?
It's the iconic team-up that we never expected to happen, but Lords of the Jungle finally brought Sheena Queen of the Jungle and Tarzan together at last for this exciting six-part crossover series from Dynamite Entertainment, written by Corinna Bechko and with artwork by Roberto Castro. Transported almost century across time, to 1930's Africa, Sheena must find her way back to her era before her jungle is destroyed. Tarzan is the only one who can help her, but he is battling to protect his name and those he loves as his enemies strike in the heart of London. These are the inexplicable circumstances that have united these two Lords of the Jungle, but London 1937 proves to be just as dangerous a jungle for both of them as they learn to respect one another and work together to save the fate of the future from Laine and her deadly apocalyptic cult.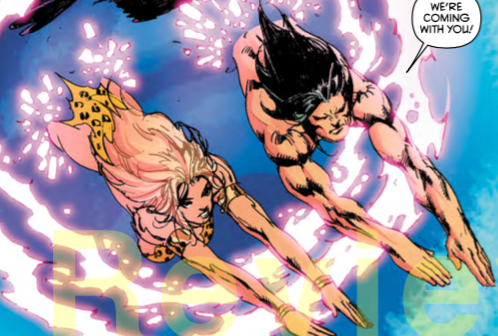 Lords of the Jungle #6 unfolds at a cracking pace. Tarzan is determined not to let Sheena destroy the portal and have her future taken from her so cruelly, instead he wishes for them to follow and Laine to wherever - and whenever - she might be and undo what she has wrought. However, another voice brings clarity to the vision of a terrible weapon from another age, which instigates a voyage across time to a showdown in a cold grey future that neither Tarzan or Sheena are truly prepared to experience, for a final showdown with Laine and her followers. Corinna Bechko manages to keep bring all the plot threads together as the action unfolds, the pace is a little frenetic at times, but the snappy dialogue and taut plotting ensures everything keeps on track.
The artwork by Roberto Castro relays the drama and tension perfectly. Well structured and concise page layouts nicely maintain the flow of the story, the attention to detail is also good, and the characters and numerous locals are all well realized. Alex Guimaraes' colors really come into their own during the time travel sequences through the portal, were glorious blue tones and cool energy crackles and swirls in a whirlpool of dancing light, before we arrive in a somewhat grim and unassuming looking future with flying cars.
The final face off between Sheena, Tarzan, and Laine unfolds in this strange miss-matched future of technology and jungle, were loyalties are severely tested, and an unexpected change of heart quickly turns the tide of the conflict. Although some of the time travel mechanics do seem to wrap things up a little too conveniently, Bechko, Castro, and Guimaraes work their magic to ensure that the closing moments are both beautiful and poignantly moving.
Lords of the Jungle #6 provides a fantastic conclusion to this mini-series. It never ceases to amaze me how Dynamite Entertainment can bring two iconic properties together like this and make them work so well - especially in the context of such a time travel centric story. Its been great to see Sheena and Tarzan working together over the course of the series, gaining respect for each other, and forging a friendship that will endure far beyond the boundaries of time. Writer Corinna Bechko brings everything to a close in fine style, and the artwork by Roberto Castro is excellent. With its impressive cover by Felipe Massafera, Lords of the Jungle #6 is a stylish and emotional finale issue to what has been a highly innovative and impressive six-part series.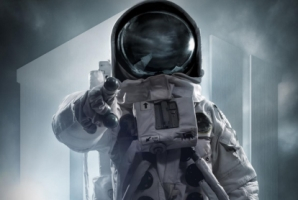 Paul Bowler is a self-Confessed Sci-Fi Geek, Doctor Who fan, and Zombie Disposal Expert. He likes movies, comic books, and all things PS3. He likes to write about his interests, would love to write a novel one day, and also enjoys chatting to the many people he has gotten to know on Twitter. When he's not busy being an Impossible Astronaut, he likes to take a break from his adventures in time and space to enjoy some of his favourite tv shows and movies, preferably with a nice cuppa tea & a sandwich! You can follow him on Twitter @paul_bowler, or find him at his website, Sci-Fi Jubilee.