(IDW 2015)
Writer: Brandon Seifert
Art: Mention 3
Many years ago, the scientist Seth Brundle's experimental telepods transformed him into a horrific human-fly hybrid. Now his human son, Martin, once also affected by a similar mutation, has been quarantined along with his staff by the military inside an old hospital on North Border Island following the outbreak of a new transgenic infection. Martin has worked tirelessly to find a cure, now time has run out, and the human-fly hybrids have started to hatch. A terrifying plague of human-fly hybrids will soon threaten the entire world unless they are stopped, but can even the might of the U.S. Army prevent this full-scale outbreak?
The Fly Outbreak #4 continues the new IDW five part horror mini-series, written by Brandon Seifert and with art by mention3, as Martin and his wife, Beth, confront the full horror of the outbreak at the hospital facility. Inspired in part by David Cronenberg's, The Fly (1986), and more directly by the characters and plot of its sequel, The Fly II (1989), Brandon Seifert and mention 3ís comic book series fuses the DNA of The Fly films with a gloriously twisted, visceral, and macabre new storyline with striking artwork to venture into even darker territory than the movies to unleash a nightmarish horde of new hybrid fly-creatures!
Having covertly reached the island Beth is reunited with Martin at last. It's a good job she's come armed to the teeth as well because the human-fly hybrids have broken out of the hospital and are running amok. Martin and Beth's reunion inadvertently forces them to face some difficult personal issues that have blighted their relationship, especially Martin's guilt over turning Anton Bartok into a monster and what he perceives as his role in causing this outbreak. However, an encounter with Martin's lab assistant, Noelani, soon presents them all with a new dilemma - one that Martin's conscience simply won't allow him to walk away from.
Brandon Seifert's excellent writing makes this intriguing character driven installment one of the most compelling issues so far in this mini-series. With the focus shifting to Martin, Beth, and Noelani while the outbreak momentarily blends into the background, Seifert takes full advantage of this opportunity to really get under these characters skins and explore what makes them tick. In doing so, it polarizes the moral and ethical ambiguity of Martin's experiments like never before, and ultimately presents us with an unsettling new perspective on events.
The artwork by mention 3 is absolutely stunning. For such a self-contained issue, with only three characters and a whole lot fraught emotions and lengthy exposition to get through, mention 3 makes The Fly Outbreak #4 a vividly dark and grandiose spectacle of the highest order. There is an almost dream-like, noir-spliced, quality to every page, as the cocoon of events - past and present - envelops us within the plight that Noelani's condition presents. The tension builds steadily, so that by the time a fateful course of action is inexorably set in motion, you will be completely transfixed within the heartbreak and horror of the issues final scenes.
Though containing fewer moments of full on horror than previous issues, The Fly Outbreak #4 is nevertheless a solid entry to this mini-series, with its terrific story by Brandon Seifert and mesmerizing art by mention 3, everything is now in place from an epic finale! The haunting regular cover by mention 3 is another all round winner for this series and the subscription variant by Robert Hack offers a superb classic horror slant. If you like you horror comics with a sci-fi edge, great characterization, and grisly body-horror then The Fly Outbreak #4 is certainly the book for you!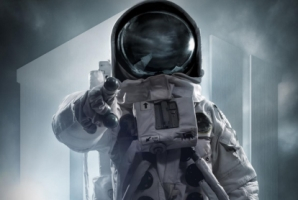 Paul Bowler is a self-Confessed Sci-Fi Geek, Doctor Who fan, and Zombie Disposal Expert. He likes movies, comic books, and all things PS3. He likes to write about his interests, would love to write a novel one day, and also enjoys chatting to the many people he has gotten to know on Twitter. When he's not busy being an Impossible Astronaut, he likes to take a break from his adventures in time and space to enjoy some of his favourite tv shows and movies, preferably with a nice cuppa tea & a sandwich! You can follow him on Twitter @paul_bowler, or find him at his website, Sci-Fi Jubilee.