(Image 2016)
Writer: Kel Symons
Art: Nate Stockman
Colors: Paul Little
Lettering and Design: Pat Brosseau
Having braved the depths of the Rift and infiltrated the Venn stronghold, Reyn, Seph, and the Followers of Teck uncovered the startling truth about the Land of Fate. Now in Reyn #6 the secret history of their fabled world is revealed at last. Reyn and Seph must learn to deal with the new reality they now face, but time is a luxury they don't have, the Venn are readying their forces to attack, and soon tragedy will strike.
Reyn #6 expands the grand scope and scale of the Land of Fate like never before as this Image Comics fantasy series, written by Kel Symons (The Mercenary Sea), with art by Nate Stockman, colors by Paul Little, and lettering and Design by Pat Brosseau, sees Reyn, Seph, and their allies confronting the out-of-this-world revelations that have turned all of their lives upside down and shattered everything they once believed in.
Following on from last issues Swords and Sorcery / Sci-Fi infused game changing cliff-hanger ending, Reyn #6 keeps the shocks and surprises coming for Reyn and Seph as the hidden past of the mysterious Land of Fate becomes inexorably entwined with the present. Kel Symons continues to build the suspense, Seph's father, Adon, faces some difficult questions which even he cannot fully answer, and even Reyn's ethereal guide Aurora mistress of Light, is unsure how to explain what the Warden of Fate is actually seeing. However, once everyone calms down and the initial shock of what their true world is subsides, its Reyn's common sense approach and wry outlook that get things back on track. Soon the full extent of the great cataclysm becomes clear, as the past unlocks the salvation of humanity and a mission tinged with hope, destiny, and fate.
Nate Stockman's artwork makes this issue an absolute joy to behold. The Sci-Fi and Fantasy elements all fuse seamlessly together with Symons intricate narrative to bring a whole new aspect to Reyn's world. From the spectacular views into the great beyond past the view-port, to the moments of tension between the characters, it is the spectacular way Stockman illustrates the great cataclysm itself that really earmarks this issue as something very special indeed. The sheer attention to detail and depth of storytelling in these sequences are breathtaking. Paul Little's colors are excellent as well, bold and vibrant, every beat of the story is captured impeccably, and the lettering and Design by Pat Brosseau is also as exceptional as ever.
This issue concludes as the Venn being their attack, the battle is furious, and a terrible loss will be suffered. Reyn #6 is another really exciting issue, it gets the new story-arc off to a great start, there are some interesting character and plot developments along the way, and the ending is certainly one of the series' most shocking so far! Reyn #6 continue to impress with every issue, with its terrific story by Kel Symons and superb art by Nate Stockman, this sci-fi embellished fantasy adventure series is certainly one that I would highly recommended, don't miss it! Oh, be sure to check out the superb Reyn Vol. 1: Warden of Fate Trade-Paperback (collecting issues 1-5) which is also available now, perfect for fans of the series and for new readers to catch up with Reyn's adventures.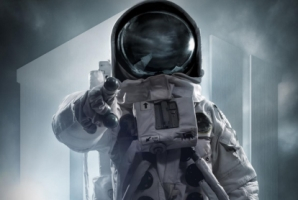 Paul Bowler is a self-Confessed Sci-Fi Geek, Doctor Who fan, and Zombie Disposal Expert. He likes movies, comic books, and all things PS3. He likes to write about his interests, would love to write a novel one day, and also enjoys chatting to the many people he has gotten to know on Twitter. When he's not busy being an Impossible Astronaut, he likes to take a break from his adventures in time and space to enjoy some of his favourite tv shows and movies, preferably with a nice cuppa tea & a sandwich! You can follow him on Twitter @paul_bowler, or find him at his website, Sci-Fi Jubilee.