(Image Comics, 2015)
Krampus! Volume 1
Written by Brian Joines
Illustrated by Dean Kotz
Colors by Ron Riley
Letters by Charles Pritchett
If you think about it. The idea of Santa Claus is pretty creepy.   An old guy who breaks into your house and leaves things for your kids without you knowing who he is or what his criminal background is.  As if that weren't bad enough some disturbed parents in the Alpine regions of Europe decided that their children, while mostly good for the month of December, did not have enough to worry about the rest of the year.  No gift from Santa was not sufficient penalty to keep them in line.  So they invented the Krampus.
I had never heard of the Krampus until about three years ago when I saw Rare Imports, a Finish film released in 2010 about something sinister inside a lonely, snow-covered mountain.  If you do a Google search on the subject, you will see some truly horrifying pictures of traditional Krampus parades in far-off countries.  The Krampus, for those who don't know, it the yin to Santa Claus' yang, the black to his white, the creature that comes on Christmas eve to punish bad little girls and boys in various sadistic ways. This book takes a decidedly lighter position on the Krampus.  I give you Krampus! Vol. 1from Image Comics, a collection of the first five issues of the series.
Brian Joines (Imagine Agents, The 7 Guys of Justice) has more than a substantial lean towards the fantastical in his writing.  In Krampus he takes on all of the mores of the Christmas season, adding a "Secret Society of Santas" and armies of Sugar Plum Fairies and elfin madness on a heretofore unheard of scale.  Is this a romp?  I've never described anything as a romp.  Perhaps, though, this is the best use of the word.  A merry romp through the Christmas season, one that leaves cloven-hoofed tracks and the smarting heads of the naughty in its wake.
The story, loosely, goes as such.  The Krampus, after being imprisoned in the 1950's, is the only hope of the Secret Society of Santas, a group comprised of the various versions of Santa from around the world.  Someone has stolen the bones of St. Nicholas, the source of the Santas' powers, and their only option is to release Krampus and "convince" him to help them.  (In the form of a "Naughty Bomb" strapped to his chest.)  Along with his trusty wolf Stutgaard, Krampus goes on a tour of world, trying to track down the their and coming into violent contact with pretty much everyone he sees.  It's fantastic.
Dean Kotz (The Red Panda, Charmed) will soon be overwhelmed with comic work, as his art in this book is top notch.  The humor that Joines infuses into the script is accented greatly by Kotz's artwork, which retains a sketchy quality even as it is complete on the page.  He uses greatly exaggerated angles and points of view, which make for exciting panels, always fun to look at, and perfectly executed.
I'll not say that this is destined to be a Christmas classic worldwide, but I got enough holiday spirit from this book to last me through this current Christmas season, and probably into the next.  Brian Joines and Dean Kotz have put a new spin on Christmas stories in a way that I would never have expected and was totally delighted by.  Start a new tradition, pick up Krampus Vol. 1 and bring the horror back to the holidays.
Reviewed by Brad Gischia
---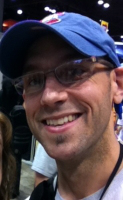 Name: Brad Gischia
Twitter Account: @comicwasteland
City: Ishpeming, MI
Brad Gischia is a writer and artist living in the frozen Upper Peninsula of Michigan. He is married and has three kids and a dog, who all put up with his incessant prattling about comic books.