(Madius Comics 2016)
Written by Rob Jones and Michael Sambrook
Art by Neil Ford, Alastair McLauchlan, Gareth Sleightholme, and Alisdair Wood
Horror is and has been one of the most popular genres in comics.  Books like Tales from the Crypt and Eerie have been staples to horror fans since the 50's, and caused such an uproar that parents had them burnt in the streets.
In the past two decades horror comics have taken the helm as the most popular in the industry.  Standard super hero books have delved into the dark side with story arcs like the Blackest Night in DC, and Marvel vs. Zombies.  You know when the big two put the ok on stuff like that that they see their market share drifting.
All this to introduce a new horror anthology from indie publisher Madius Comics called Tragic Tales of Horrere.  I feel like I'm beginning to see a divide in the indie publisher market, ones that are putting out high-quality, well-written books, and those that aren't and are falling by the wayside.  Madius continues to impress.
Horrere is a collection of three terrifying tales built to disgust and scare in a few short pages.  Each is written by Rob Jones and Michael Sambrook and the art duties are spread out four other artists.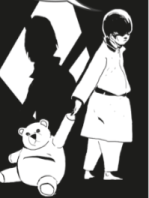 The first story "If You Go Down To The Woods Today" is drawn by Neil Ford.  It's very straight black and white art and works great for the story, a heartwarming tale of a boy and his stuffed bear.

Next comes "The Aufhocker" with art by Alastair McLauchlan.  This is a classic monster story, done with solid greys and blacks, with a great Tim Burton feel to the art.  Something about the long points of view and the fantastically weird monster make this a creepy little short.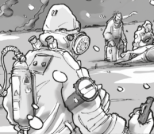 "You Are What You Eat" tells a zombie apocalypse story with an unusual twist not often taken in that genre.  Gareth Sleightholme's work in this short is fantastic, looking like something that would be at home in 2000 A.D. or any of the other top anthologies on the market.

Finally you have "Grimoire: Chapter 1, Baby Bell Jar".  I've been a fan of Alisdair Wood's work for a long time, and this is just more proof of why I like his work.  The art in this story is dark and…for lack of a better word, dirty.  That is not a bad thing, it's more of a way to say that the lines aren't cut perfectly off, it's not super polished and smooth.  But I like that gritty feel to the art, and it increases the weird of the story.
I'm not ignoring the writing here either.  Jones and Sambrook have got a great handle on how to craft a story in this genre, with a bit of humor and enough gore and horror to make it seem just like those stories that we grew up on.
There is an art to the short story, and just so there is an art to the short comic story.  Horrere #1 is a great example of a small company doing a lot in house and to great success.  Madius Comics is continuing the great tradition of horror anthology comics.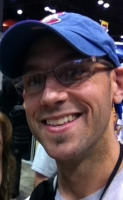 Brad Gischia is a writer and artist living in the frozen Upper Peninsula of Michigan.  He is married and has three kids and a dog, all who put up with his incessant prattling about comic books.
Twitter - [email protected]