(Black Mask Studios, 2014)
Created & Written by Mark L. Miller
Pencils & Inks by Carlos Granda
Colors by El Comic En Linea Foundation
Lettered by Jim Campbell
Coulrophobia is the fear of clowns.  Anyone who grew up on Stephen King novels has a touch of it, and those who saw Tim Curry's crazy-good performance as Pennywise the Dancing Clown still shudder at the thought of balloons and how they float.  But for those that weren't deeply emotionally scarred, there's a new clown in town.
Pirouette #1 tells the story of a 15-year-old girl, raised in a traveling circus in what, judging from the cars and styles is the early 20th century.  Her family consists of circus folk, the fat lady, the acrobats, and mentally slow stable hand, and of course, the clowns.  This comic will totally change your perception of clowns.  Pirouette is the youngest in a family of the most demented, brutal clowns you'll ever meet. (Barring a visit to a small, semi-fictional town in Maine.)  These are not supernatural clowns mind you, but you'll hate and fear them just the same.  This issue is just the set up to a larger story, which is, at the heart of it, Pirouette trying to find the truth about herself, and to escape the makeup.
Mark Miller (Clive Barker's Next Testament, Grimm Fairy Tales) is the scribe for this book, and is gathering the tangled threads of a clown's yarn wig together to form a fascinating story.  Pirouette is a sympathetic hero for certain, and we feel for her from the first, gut-wrenching splash page.  (Which I'll get to momentarily.)  Miller makes the clowns execrable, the opposite of what their public image is.  The mirth you would expect is the last thing they ever show, and only in front of a paying crowd.  Pirouette is the best at nearly all she does, though she's not allowed to show it, and is forced to stay in makeup at all times.  Not only does this hide her identity physically, but shows how they keep her mentally "under the paint".
The art in this is fantastic.  Having drawn several books for Zenescope's Grimm Fairy Tales, Carlos Granda has the talent necessary to drawn form.  But it's in the splash pages that his talent shines.  In that first, mentioned above, he depicts the mental anguish that Pirouette is going through in a quasi-dream sequence, horrifying and macabre.  Later we see a long shot of the circus grounds that is so finely detailed and intricately done that one can almost hear the barker and smell the popcorn and peanuts and hear the trumpeting of elephants.  Beautiful work.
Black Mask Studios is on a solid run right now, with books like Matt Miner's Liberator series and now Pirouette, I feel like they are solidifying their foothold as a publisher.  A recent partnership with Frank Barbiere and Chris Mooneyham on the development of a Five Ghosts television show and they are securing a position as not only a comic book company, but an entertainment company.
Pirouette #1 is a fine example of what small companies can produce, and with the fine talents of Mark Miller and Carlos Granda on the project we can expect fine artwork and great storytelling, and a couple of creepy clowns.
---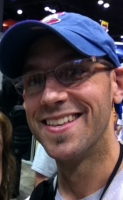 Brad Gischia is a writer and artist living in the frozen Upper Peninsula of Michigan. He is married and has three kids and a dog, who all put up with his incessant prattling about comic books.