(Marvel Comics, 2014)
Written & Drawn by Kaare Andrews
Kaare Kyle Andrews is the kind of comicbook (one word as per Stan Lee) writer/artist I most respect; he is a fan turned creator. Andrews writes with the kind of passion that only someone truly in love with the medium could muster and he knows his continuity cold. I recently listened to an interview with Andrews on the Word Balloon podcast and it was so obvious that he would be doing this whether or not he was being paid; the zeal and intelligence with which he talks about comicbooks and comicbook history was plain to see. He has been a creator I have admired for some time now so when it was announced that he was going to be taking on one of my favorite classic Marvel characters, namely Iron Fist, I was all in from the opening bid.
Iron Fist aka Danny Rand has all the potential to be in the upper echelon of Marvel characters however he is a character that very often is misused or placed in the hands of the wrong creators, in fact Matt Fraction was the last writer who I thought did a decent job of using the character in an intelligent and entertaining narrative. Well what's past is definitely prologue now that Kaare Andrews' first issue has hit the racks. This book is amazing from cover to cover. He really has a bead on Danny Rand as a person; Andrews uses the established origin and mythology as a foundation and then builds upon it in ways that are dark, poignant and thought provoking. This Iron Fist has much more in common with Batman than in previous incarnations; that deep angst and sense of self-loathing that tints everything he does, Rand will never be good enough by his own estimations much like Bruce Wayne feels about himself. These are two flawed, deeply damaged men in search of healing and self-acceptance that is always just out of reach, dancing at their fingertips. This is not to say that Rand is self-absorbed or needlessly brooding; he is introspective, complex and multi-facetted. Andrews has added a level of depth to the character that draws him more fully into focus and illuminates his motivation yet maintains an air of shadowy secrecy that makes Rand vastly intriguing.
The story finds Rand coming to grips with some of the choices he has made, chiefly the ramifications of choosing death over life. This is truly the deconstruction of Danny Rand in many ways. He is called back to his mystical homeland of K'un Lun where he is forced to confront his inner demons, as well as some very real adversaries. Revenge is very much the focal point of the narrative but revenge at what price, that is the question that is at the core of Rand's transformation into Iron Fist. Andrews maintains a singular sense of creative energy throughout this issue. He does some tremendous character development, crafting Rand from a somewhat more esoteric beginning than most super heroes. Perhaps that is due to the intrinsically spiritual nature of the character. Although there are moments of deep introspection in this issue Andrews doesn't skimp on the action by any means; there are ninja zombies, attack helicopters and plenty of good old Kung Fu fighting, all fantastically rendered with insane attention to detail and composition.
Artistically Andrews kills on this book creating some of his best work since Spider-Man: Reign. There is a cinematic feel to his storytelling approach that calls to mind the films of Ridley Scott and Terry Gilliam in its dark, almost dystopian atmosphere. His sophisticated use of color to convey mood and tonal quality within the story is second to none. There is not a single page that feels less than perfect in this book. Andrews delivers a gorgeous, meticulously rendered masterpiece of sequential storytelling. Iron Fist raises the bar for the All New Marvel Now line of books yet again.
Iron Fist: The Living Weapon is a dark, poignant and deeply emotional journey through one man's hell, self-imposed though it may be. Danny Rand is deep without being depressed, complex without being contrived but mostly he is human, flawed, imperfect and completely human. This is without a doubt one the best books of the year thus far by any publisher. If you are not a fan of Iron Fist or perhaps you have limited knowledge of the character don't let that keep you from experiencing a book of this magnitude. This is a perfect issue to meet Danny Rand and stick around for what promises to be a great series. (5/5)
___________________________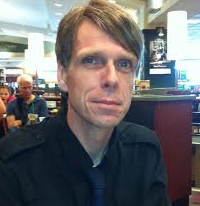 Shawn is an aspiring writer/ artist who has been reading, collecting and living comic books for over 30 years. He lives in Baltimore with his wife, their son, lots of cats, dogs and other various finned and furry friends.