(DC Comics, 2014)
Written by Scott Snyder, James Tynion IV
Ray Fawkes, John Layman, Tim Seeley
Artwork by Jason Fabok
Color Artwork by Brad Anderson
The new weekly series Batman Eternal boasts a stellar crew of writers headed up by Batman proper scribe Scott Snyder.  The rest of the team consists of some of DC's most popular and prolific writers including James Tynion IV, Ray Fawkes, John Layman and Tim Seeley and these guys do not waste a single panel before getting the action started. Indeed, this first issue comes out with guns blazing and takes no prisoners with a gruesome rendering of a brutalized and bound Bruce Wayne from a flash forward moment, a trope ascribed to Snyder from some of his previous stories. Batman Eternal focuses on a single narrative instead of an anthology of shorter and largely unrelated stories as DC has done in the past when attempting a weekly title and this approach pays off in a big way. Much of the grim and gritty sensibility of Snyder's monthly Batman is present in this first issue, as well as the tremendous character development we have come to expect from him. Although this book is not being single handedly written by Snyder there is a sense of cohesion to the narrative, never does it feel like it is being created by committee, there is a singular strength of voice and direction.
The story begins with Lieutenant Jason Bard's first day on the GCPD; to say his introduction to Commissioner Gordon could have gone better is the understatement of the decade. Gordon is the catalyst for this first arc and things couldn't get worse for the seasoned Gotham lawman. Snyder and company cast Gordon in a light that is not only unflattering but very unfamiliar for the commissioner. They take the question "why do bad things happen to good people" to an extreme degree and its Gordon's longtime friend Batman who comes to his aid. However there isn't very much the Dark Knight can do for his friend short of taking him on the run until he can clear his name but that is not Gordon's style. The writers do a fantastic job with all the characterizations here, particularly with the cops of the GCPD; Forbes, Sawyer and Bullock all have their individual moments to offer their best advice to new comer Bard. It reads very much like a great cop show; from Jason Fabok's rendering of the old cluttered precinct to the spot on dialog full of cop jargon and attitude. There is a wonderfully authentic sense of realism and drama that is deepened and enhanced by this setting. I love police procedurals and this book hits all the beats. Both Snyder and Tynion have loads of experience writing in the Bat Universe so it should come as no surprise that they handle these characters so capably, however I was especially impressed with how they handled the Grant Morrison created Professor Pyg. This is a character that has not been as deeply developed by other writers as many of the other denizens of Gotham and I found that Professor Pyg was menacingly insane and volatile just the way Morrison intended. But it is Batman who is the undisputed star of this book; his relationship with Gordon is complex and deeply nuanced while his ties to the GCPD are tenuous at best. These kinds of subtle details combine to convey a textured and complete portrait of the Caped Crusader. He comes across as intimidating and in control of his city, truly a Dark Knight Protector. This is the kind of Batman that sends fear into the hearts of criminals but with these guys handling the writing I don't think we have anything to fear.
Jason Fabok turns out some of his very best pages in this issue. He meticulously details a horrendous train wreck rendering it as some catastrophic ballet of twisted metal and carnage while capturing the gritty atmosphere of Gotham City at night with dramatic attention to shading. His versatility and ability to capture the bombastic events as well as the quiet moments with equal intensity and flare for the dramatic are what makes his work so impressive and he does it all with cinematic sensibility. Fabok's kinetic approach to storytelling is the perfect choice for this type of story. It's epic in scope while taking place on an intimate stage, Gotham City. He captures all the personality and soul that Snyder so painstakingly infuses Gotham with; the city becomes another character in the hands of a writer like Snyder. Fabok does an extremely nice job making use of panel placement, mixing in larger splash pages and spreads to keep up the frenetic pace of the narrative.
Clearly the creative team has set the bar beyond high with this first issue. It has everything you would expect from such a superb group; drama, action, an engrossing premise and some of the most fantastically stunning artwork to ever grace the pages of any comic book. High praise? Not high enough I say. This is one of the single most engrossing first issues I have ever read; thank goodness we only have to wait a week between issues because I don't think I could go a month living with this kind of anticipation. Needless to say I recommend picking this up and every issue for the foreseeable future. Batman Eternal is mandatory reading for anyone who likes their comic books perfect, and don't we all. (5/5)
___________________________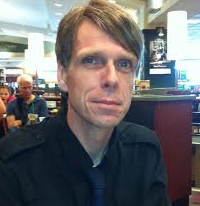 Shawn is an aspiring writer/ artist who has been reading, collecting and living comic books for over 30 years. He lives in Baltimore with his wife, their son, lots of cats, dogs and other various finned and furry friends.