(Dynamite Comics, 2014)
Written by Jeff Parker
Illustrated by Evan Shaner
Colored by Jordie Bellaire
Lettered by Simon Bowland
The retcon company, Dynamite, is at it again with the release of Flash Gordon #1 this week.  Written by Jeff Parker and drawn by Evan Shaner, Flash delivers a modernized version of the comic that our parents and grandparents grew up reading in the funny pages, the one the spawned a film my generation loved to hate.
Flash Gordon was created in 1934, drawn by Alex Raymond as a competitor to the already established Buck Rogers.  Gordon was a polo player from Yale (obviously an everyman) who was shot into space with Dr. Zarkov and Dale Arden to trace the source of a meteor shower that nearly destroyed the Earth. What they found was Ming the Merciless, one of the most recognizable names in comics, waiting for them, ready to destroy the ever-popular Gordon.  The comic followed their adventures on the planet Mongo, across its always-differing landscapes, and trying to find a way home.
Though you can't claim that most comics don't leave you with a cliffhanger of an ending, you can say that they inherited it from the strips.  What better way to get people back to the funny pages, especially with a dramatic or adventure strip like Gordon, than to leave him at the worst possible moment only to have him turn the tables in the first panel of the next day's paper, saving the day?
Jeff Parker (Thunderbolts, Batman '66) has instilled that feeling into this book.  It is an homage to the genre for certain but also a retelling of the classic origin.  The characters have not changed a great deal as of issue one, which is a comforting change.  (i.e. Dr. Zarkov is not a super-intelligent parrot…)  He writes this comic like it's a series of strips, as if each page were a daily issue of the adventure.  I really noticed this in the last panel, when Rogers makes a comment about Dale Arden (she has just pulled their bacon from the fire) in a very "nudge nudge wink wink" kind of way to Dr. Zarkov. (Can't let the little lady know we're on to her…eh friend?)  It could be viewed as sexist or chauvinistic, but in this formula it fits perfectly.
To accompany the script is Evan Shaner (Ghostbusters, Adventures of Superman) and his fantastic artwork.  Shaner has captured the look of the strips while keeping it modern.  Flash has that Johnny Quest look to him, the All-American athlete who makes good.  He is the quintessential action hero from the 30's, the guy that every other guy wanted to be.  So for this story, this callback, it is a perfect choice. (Once again, Flash is not a twelve-year old who inherits a magic belt and blah…blah…)  He keeps the facial features a little like the newspaper features, basic, but also has massive panels of gorgeous backgrounds and huge monsters.
But why read another retcon?  Haven't they all been done?
Of course not.  Read it because it's a great book.  Remember that Flash is not a super-human.  He's a brash and young and arrogant, the kind of guy that you wish you could get away with being sometimes.  There is no super powered get-out-of-jail free card.  It will make it harder for the Parker to write him out of jams, but more enjoyable for the reader.  And really, Dynamite has been knocking these redo's out of the park, so there's no reason to think that Flash Gordon will be anything different.
___________________________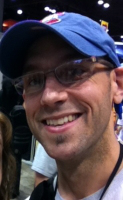 Brad Gischia is a writer and artist living in the frozen Upper Peninsula of Michigan. He is married and has three kids and a dog, who all put up with his incessant prattling about comic books.