(Boom! Studios-2015)
Writer- Justin Jordan
Artist- Jorge Coelho
Colorist- Tamra Bonvillain
Letterer- Ed Dukeshire
Editor- Ian Brill
When I first saw the cover of John Flood #1 my brain instantly went to Dave McKean's Hellblazer covers of the late 80's and 90's. As I read on it became clear to me that the writer, Justin Jordan (The Strange Talent of Luther Strode), must have been influenced by the John Constantine Hellblazer comics. The main character, John Flood, feels very much like he would be John Constantine set in happier world. I may have jumped to a conclusion too quickly there.
With issue 1 we meet the main character, John Flood. Flood is a quirky, sleep depraved, detective that looks like he could be in a little bit of trouble. He is borderline insane, due to the fact that he hasn't slept in 10 years, because of government meddling. As Flood puts it, "Their intent was to remove the need to sleep. And they succeeded."
It isn't clear beyond that what is the whole story behind this, but because of the brain tinkering he is in a constant "dream state". This causes him to not be crazy necessarily, but to not be able to easily identify what is real and what isn't.
From here we flashback to the story of how he got into the trouble he has found himself in. We find Flood's assistant, Lyta, persuading, Alexander Berry, an ex-cop with an aptitude for violence, to be more or less, Flood's "muscle". We later discover that Flood needs Berry's help while Flood pursues a serial killer that leaves no evidence and has no apparent motive in whom he kills.
This all leads to John Flood #2. In this issue, writer Justin Jordan really delves into the protagonist of the story as he continues to kill and we learn more about who he is and where he might have come from. We also follow Berry and Flood as they take on a side job finding a missing cat. Berry is confused as to why Flood needs him around for such unimportant work while a serial killer is on the loose. Flood explains, "It's better than being a mouse." This weird nonsensical dialogue is thrown around quite a bit, but it surprisingly works for the character.
This second issue of John Flood does what a good second issue of a story should do, expand and redirect. The universe grows and I was spun into discovering other areas of the story I didn't think I would care about. Beyond just a good issue though, this world really starts to become something special in its own right. It steps off the coat tails that I thought it was hanging onto from the first issue and starts down its own path. This begins with the gradual fleshing out of the main character.
John Flood is not a variation of John Constantine as I thought earlier. He is his own man. Justin Jordan is really starting to deliver us a stand out character.
John Flood is a man that is constantly in the euphoric, mile a minute state of someone who has been awake for 48 hours pounding rail after rail of cocaine into their sinus cavity, but with the ability to "maintain" enough to not start screaming, "I know what state I'm in, Jack!" That is the only way I can begin to describe him.
Jordan does a good job of straddling the line of making Flood overly weird and out of place without crossing into the "ok, we get it he's weird." territory. The balance of strange but likable is not an easy thing to pull off, but Jordan nails it.
What really puts this book over the top is the art. The art is great throughout. Jorge Coelho (Zero) finds the balance that a comic like John Flood needs. He captures the bouncy fun of a cartoonish character style with contrasting sharp angles and disturbing images when the mood calls for it.

Bonvillain on colors really helps carry these tonal changes with bright colors mixed with an aggressive use of shadows. There is a flashback scene that really shows off what the art team can do with the contrast of bright colors and shadows. It is a very powerful image that captures the tonal contradiction of a fun magnetic charismatic John Flood mixed with the extremely dark undertone that the story sits in.                 
Issue 2 of John Flood solidifies itself as being good by the great thing it does by not over explaining everything to the reader. This not only gives the audience the respect of letting us come to our own conclusions, but also gives the characters a depth that can only be had by letting the characters stay mysterious.
The first issue of John Flood had me nibbling on the bait. Issue 2 has me completely hooked. Great job all around and I look forward to continuing the story.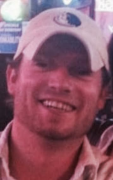 Jonathan Winchester is a writer from Dallas, TX where he lives with his wife Maddie and their annoying cat. He believes Han was the lone shooter, that nothing looks better than a silver age comic in Mylar, and that there is no better feeling than walking into a dimly lit movie theater.
Twitter- @TexasWingnut