(Comix Tribe 2015)
Story by Sam Read
Art by Caio Oliveira
Colors by Ruth Redmond
Letters by Colin Bell
The end of the world is a fertile garden for the imagination. Over the last century writers have used all media to try and scare us and spark our own thoughts on what the end will be like. From wandering zombies to pandemics there are no ends to the awful ways that humanity will destroy itself.
Sam Read has a new take on that old idea. In this week's release, Exit Generation #1, he looks at the shortage of food for the ever-growing populace, a problem that could very well be something we face in the future. Humanity has discovered that there is no way that the planet can support the population, and has put all it's effort into building arks which will carry humanity to the stars, thus ensuring the survival of a race as the planet literally eats itself extinct.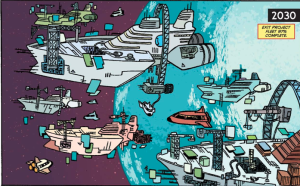 Read focuses on one couple in particular, Olivia and Matthew, who threw their lives into the ark project, only to have it separate them. Flash forward twenty years, and we find that, not only did the world continue to struggle on; it began to thrive in the absence of so much of its excess population. Jack and Mo are brothers, both raised by Mo's parents. Jack is the grown son of Olivia, who "flaked out", and Matthew, who left on one of the arks. He has grown up in a world that has everything, ripe for the picking, from DVDs to guitars, and no use for things like money. Everything is a barter system. Everything is perfect for those left behind. Until the particular day in question, Jack's birthday, when they find out that those lost souls shot into space twenty years previous weren't the only ones traveling across the universe.
Sam Read takes a realistic look at what a sudden loss of population would do to the planet. He interweaves Jack's story with it, so that we see how one orphaned at the beginning would grow to idolize the things we take for granted. Violence that we take as a matter of course, something we rail against as parents, is such an absurdity that Jack can't help but find it an amusement. It's a great take on this "end of the world" trend that is becoming more popular in comics.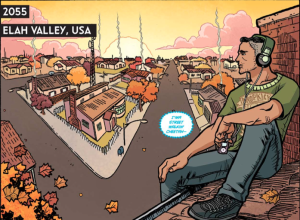 Caio Oliveira (No More Heroes, Super Ego) lends his unique style to the book. I really like the way he uses variation in line thickness to distinguish depth. Ruth Redmond's colors add another layer to the art that distinguishes it. She uses a lot of warm tones in the scenes. It gives a feeling of comfort and security that is in direct opposition to what happens near the end of the book. Sometimes we forget how much color can influence the feel of a book, but the is a great example of that.
Exit Generation shows what could happen if the food situation on Earth was the extinction event, and weaves a human element into the story. Caio Oliveira's art and Ruth Redmond's colors make this a great looking book, and one that you should be keeping your eye on.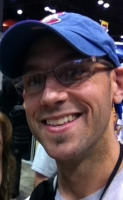 Brad Gischia is a writer and artist living in the frozen Upper Peninsula of Michigan. He is married and has three kids and a dog, all who put up with his incessant prattling about comic books.
Twitter - [email protected]