(IDW 2015)
Written by Andy Hartnell
Art by Stephen Molnar
Colors by John Rauch
Created by J. Scott Campbell and Andy Hartnell
My history with Danger Girl is a little strange. I found the comic about an issue into the run in 1997, when it was released. There was no comic shop near me, so I had one issue, one incredible issue, and that was it. The run was short, only seven issues, and then it seemed to disappear. (Along with other titles in the Cliffhanger line, the books were plagued by late shipping and often, no shipping.)
When I began to really get back into comic collecting, I went for what was really doing it for me when I quit. Mostly it was mid-to-late 80's Marvel and DC books, and then there were these few, a couple of books from Image like Crimson, Battle Chasers, and…Danger Girl. I hunted down issues at cons, much easier and cheaper than I'd hoped, and devoured them.
Over the years Danger Girl has come back with several miniseries and crossover events with G.I. Joe and Army of Darkness. Now IDW is launching another mini, this one called Danger Girl: Renegade, written by original series co-creator Andy Hartnell.
Issue 1 drops this week and we have a flashback of Abbey Chase and a bodyguard, on the run. There are mysterious clues as to the origin of her father and some shadowy government work. Cut to present day and an Abbey we all recognize, smart quips and beautiful and resourceful. She's cornered by a mercenary named Asia, who has her snake eye on an emerald she thinks Abbey has.
Danger Girl: Renegade #1 is the sequel you've been waiting for. This isn't a crossover; in fact, this seems to be a direct line from the original series. There is a great montage shot of the Danger Girl team as Abbey explains (in true sequel fashion) what has been happening.
Andy Hartnell has taken up the reins from where he left off ten years ago. (Ugh…probably closer to twenty.) This feels like the original, a series that I fell in love with for not only the beautiful art, but for the fun storytelling that went along with it. This is an adventure story. This is James Bond meets Indiana Jones meets Lara Croft. This is a Danger Girl story.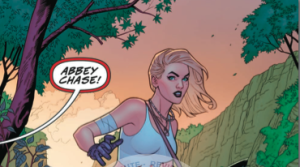 Stephen Molnar's art is fantastic. Part of the original attraction to the series, and forgive me, was because it featured so many beautiful women. J. Scott Campbell's style was one that was in high demand, and his portrayals of the Danger Girls were a huge reason why the teenage me like this book so much. Molnar brings the heat with curvatious renderings.
John Rauch's colors cannot be overlooked either. That was the other thing I really remember about those Cliffhanger books, was that they were bright. They didn't hang darkness on the pages like so many other books were at the time. There weren't broad swatches of blackness and a pair of twinkling demonic green eyes. This book is bright. It takes place in the daytime, and is all the more exciting for the beautiful coloring work by Rauch.
Danger Girl: Renegade brings me back to my youth, but more importantly, it brings new life to the Danger Girl franchise. Though it was never really gone, it's great to see that it's still there, still full of high adventure and daring do.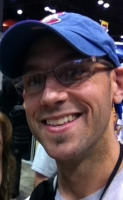 Brad Gischia is a writer and artist living in the frozen Upper Peninsula of Michigan. He is married and has three kids and a dog, all who put up with his incessant prattling about comic books.
Twitter - [email protected]