(DC Comics, 2014)
Written by Jeff Lemire
Artwork by Travel Foreman, Jeff Lemire
Color Artwork by Lovern Kindzierski, Jose Villarrubia
Lettering by Jared K. Fletcher
Jeff Lemire has taken us on a twenty-nine issue journey with one of the most enigmatic super heroes of all time, Animal Man. Since his first appearance in Strange Adventures #180 forty-nine years ago, Animal Man has presented perhaps the most diverse power set imaginable and that has opened the door to a nearly limitless pool of potential premises and plots. That is most likely the reason why so many innovative and imaginative creators have been drawn to the series in its various incarnations over the years. Animal Man was created by Dan Wood and Carmine Infantino but, it was the brilliant Grant Morrison who first brought the unorthodox hero to my attention. I had just recently discovered the then obscure Scottish genius around the time that Vertigo had added Animal Man to its growing ranks of avant garde and visionary titles. Buddy Baker and his somewhat less than traditional family provided the perfect cast for Morrison to work his alchemical magic upon and a modern classic was born. Morrison's twenty-six issue run defined the character as we would come to know him and that still holds true today, although several other innovative writers including Jamie Delano, Peter Milligan and Tom Veitch have all added their individual takes on the character to the growing mythology. Add to that list Jeff Lemire whose inspired run has just come to a poignant conclusion with issue #29.
Lemire has certainly taken Buddy and his family through some extremely taxing terrain; death, fame and trans-dimensional drama have all been familiar narrative elements to readers of this often emotionally draining series. The Bakers have experienced sensational moments of elation as well as agonizing times of tribulation on Lemire's watch and through some of the best writing in comic books today, he has taken us along on the journey, allowing us to feel every step of the trek with the Bakers.
This issue showcases Lemire's tremendous talent as an illustrator as well as a writer, as he tells this final tale over the course of eleven full page illustrations bookended by some of Travel Foreman's most dramatic work on the series. This is a fitting epilogue; visually and narratively it maintains a certain sense of melancholy while lifting ever so slightly at the end to permit just the right amount of optimistic speculation and hope for the future. Lemire lets the emotional shrapnel fly as Buddy recalls the loss of his son, Cliff and his inability to prevent that tragedy. The scenes of the new familial status quo as rendered by Foreman show the Baker clan as survivors and Lemire's script conveys this particularly on Ellen's part. Buddy's long suffering wife has firmly and irrevocably put her foot down placing a strict 9-5 work day on Buddy's super heroics. The costume comes off at the door she avows in no uncertain terms and this seems to suit Buddy just fine. Lemire closes the issue as a pervasive and hard earned sense of tranquility settles over the Bakers, for the time being anyway.
The final issue of Animal Man tells a cathartic tale through the eyes and hand of a child. Lemire's illustrations are supposed to be the work of Buddy's young daughter Maxine Baker and in keeping them full of charmingly simple visual representations of complex emotional plot points, he captures that kind of child-like interpretation. This works extremely well; Lemire's unpretentious artistic style is a perfect fit for this clever visual approach to the narrative. It adds a dimension of authenticity and personality to the overall work.
Although Lemire does bring a degree of closure to his Animal Man run with this final issue, there are several intriguing elements and unresolved matters that have been left as dangling plot threads. Not to worry, as I am quite sure that Lemire plans to explore and expound upon those and many other topics rooted in this series during his tenure on Justice League United in which Animal Man will be playing a major role. I loved this series from the very first issue to its ultimately satisfying conclusion.  Lemire delivered inventive stories with engrossing detailed plots built around engaging, multifaceted characters. Visually, artists like Rafael Alburquerque, Travel Foreman and Lemire, himself brought the world of Animal Man to life; from the everyday drama of reality to the ethereal world of the Red, the artwork was always top-notch to the very last page. This was a complex series with highlights that included the brilliant Rot World crossover, the creation of the Red and several other visionary additions to Animal Man's enduring mythology. Lemire has left an irrefutable mark upon this character and Buddy Baker is greatly enriched for it. The final issue puts a heartfelt, poignant end to this chapter of the Animal Man story. I recommend reading all 29 issues consecutively believe me it will be time well spent. (5/5)
___________________________
Click Image to Purchase "Animal Man" #29 From Amazon.com: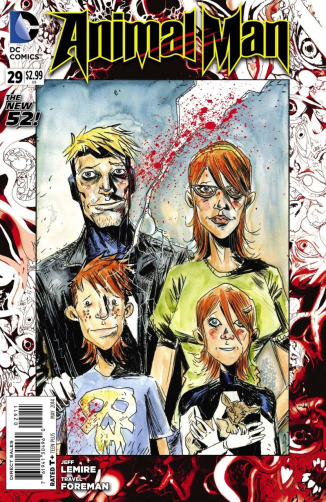 ___________________________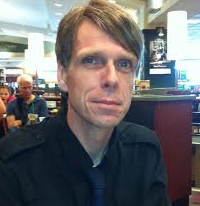 Shawn is an aspiring writer/ artist who has been reading, collecting and living comic books for over 30 years. He lives in Baltimore with his wife, their son, lots of cats, dogs and other various finned and furry friends.