(DC Comics, 2014)
Review by Galen Garner
Written by Amanda Conner & Jimmy Palmiotti
Artwork by Chad Hardin & Stephanie Roux
Color Artwork by Alex Sinclair
Lettering by John J. Hill
Think about it! Harley Quinn as the landlord of an apartment building. How awesome would it be to live in a place where her crazy antics take place around you every day? If you were a tenant in her building during this issue your life would be filled with all kinds of weird smells and awkward visits from who knows what.
The storyline for the New 52 Harley Quinn is pretty easy to follow. She has moved to New York and taken on the task of running an apartment building in Coney Island. The great part is that no matter where Harley goes there will always be tons of trouble that follows her. When I say trouble in relation to Harley Quinn what I am really saying is "something delightful" for the reader.
Harley just wants to live a semi-normal life in New York City, but her lifestyle seems to keep her from fulfilling such an ideology. Who wants her to be normal anyways? As a reader, I would be completely bored with a normal Harley. It is her quirky, spunk that gets her into chaos that makes the whole reading experience worth all 23 pages of the book.
Issue #2 of Harley Quinn presents the young landlord with a couple of problems. First off, there are hit men that keep trying to kill her and that definitely isn't nice now is it precious. (Just had a LOTR reference. Ha!) She also finds herself the proud parent of many cats, dogs, and birds.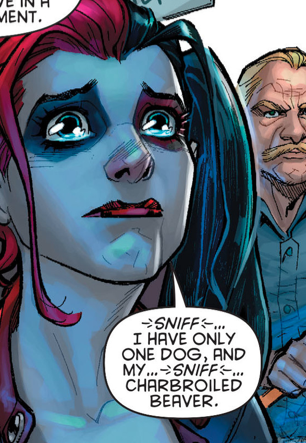 While riding on her motorcycle from trying to buy a refrigerator to put a dead guy in, Harley happens upon a rally in front of an animal shelter. She finds out from the crowd that the shelter is going to kill all the helpless puppies and kitties, so what does she do. You guessed it! She takes action and decides to adopt them all.
The mean lady working the animal adoption desk quickly denies Harley from parenting any of the cuddly animals, so she takes matters into her own hands. By doing so, obviously, requires that she invite her good friend, Poison Ivy to take part in the fun extravaganza. With Ivy's help, Harley breaks into the animal shelter and saves all the little furry fellas.
The one thing she didn't think about though was what to do with all the animals once she set them free. Over the course of the books, she manages to find herself saving the animals, smashing a car to pieces with her mallet, and even strangling a dude with a string of sausages from a local meat shop.
I will leave you there as far as the plot of this book because what unfolds is really hilarious and the art truly is a must see. I personally prefer digital to print nowadays because I can really zoom in on the panels to take in all the details. Stephane Roux does a wonderful job in drawing Harley Quinn and the facial expressions he puts on his characters always leave me smiling (especially the dogs).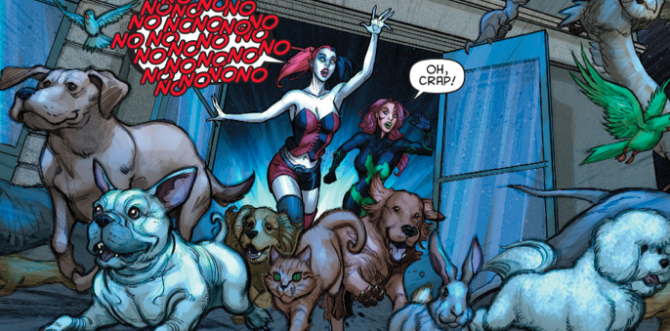 It doesn't happen often, but every now and then a comic book series comes along that is simply mesmerizing based solely on the fortunate hook-up of writer and artist. It happened over at Marvel with Hawkeye, but I rarely find this with the DC books I pick up. Writers Amanda Conner and Jimmy Palmiotti with artist Stephane Roux have delivered a masterful first three comics in the new series about our favorite crazed cartoony villain. I am definitely excited about issue three that is due to come out on March 19, 2014. Give yourself a laugh and check this one out!
___________________________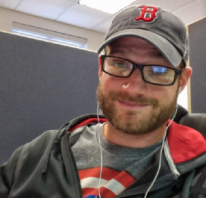 Galen is a Graphic Designer in Wake Forest, NC. He is the husband of a wonderful Oklahoma girl and dad of a future Marvel Comics fan. He enjoys comic-related anything, the Boston Red Sox and sharpening his axe for the zombie apocalypse.