Matt Miner is the creator and writer of the comic "Liberator", an animal rights twist on the vigilante story, which has been a favorite here in the Bag & Bored Universe.  We loved all four books in the mini-series, and that makes me very happy to announce that Matt Miner and "Liberator" artist Javier Aranda have joined forces with Hardcore Punk legends Earth Crisis in the creation of a new comic - "Liberator/Earth Crisis: Salvation of Innocents".  This story will take place on two different mediums, however, as along with the comic Earth Crisis have written a concept album to coincide with the series.

The comic is to be written by both Miner and Earth Crisis, and focuses on cosmetics lab custodian Sarah Mann. Upon finding a dark secret within her workplace, she is inspired by Jeanette and Damon's animal activism (as seen in the "Liberator" mini-series) and jumps to action.  From what we know of Miner and Aranda already is that they are a golden team of incredibly inventive and quality artists.  I expect this new comic to be just as poignant, inspired, important, and moving as their other work.  Add in a sure to be awesome concept album to help solidify the two camps message, and this is something that will not only be important for the subject matter at hand, but also for the future of comics and the way they are perceived.  This is the next step.
Here's what Black Mask - the publisher releasing this book - and some of the creators have to say on this new project:
It's crazy to me that it took twenty years for comics to produce a set of animal-minded vigilantes strong enough to roll with EARTH CRISIS. It's probably the most perfectly aligned superhero team-up ever." -Matt Pizzolo, Black Mask Studios
"Earth Crisis has wanted to have a comic that went along with an album's lyrical concept for a while, but we didn't think one existed that shared the same vision of the band, until now! Liberator and Matt Miner are just what we've been waiting for, and we are honored to have him help us tell the story!" -Earth Crisis
"Working with EARTH CRISIS on the comic book side of Salvation of Innocents has been a dream project for me.  Our styles, ethics, and ideologies are a fitting match and I'm super excited for folks to read the story." -Matt Miner, creator Liberator
For more information on this series, please click here.
For Pre-Order information click here.
To learn more about Black Mask's varied titles, click here.
"Liberator/Earth Crisis: Salvation of Innocents" will be released March 5th, 2014 and can be ordered via Diamond Order Code JAN140974
___________________________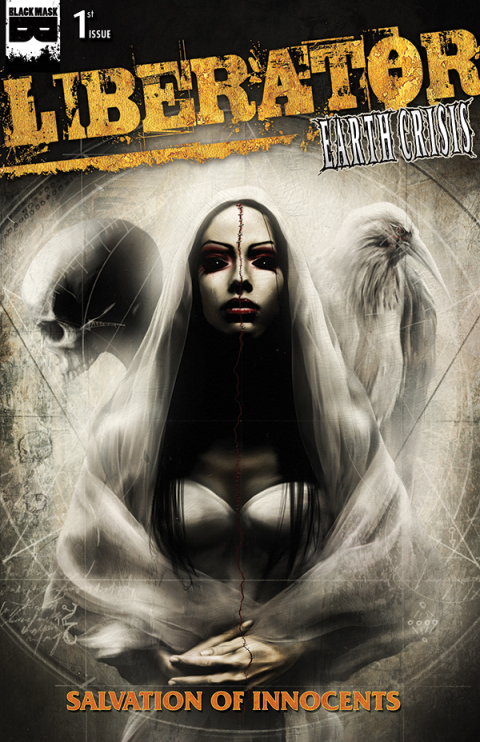 ___________________________