(IDW 2015)
Writer: Kevin VanHook
Art: Mike Raicht
Colors: Russell Walks
A hauntingly strange and uncanny investigation awaits Scully and Mulder in this year's X-Files 2015 Annual from IDW. Every year, on the anniversary of his sister's abduction, Mulder attempts to solve the unexplained disappearance of child in order to bring peace to others. This year the anniversary of Samantha's abduction has taken Mulder, along with Scully, to a high school reunion of a missing teen who mysteriously vanished in an old house; whose friends would later begin a ghost hunting show of their own.
The perils and pitfalls of a High-School reunion form the introduction to the X-Files 205 annual, where Scully unwittingly finds herself to accompanying Mulder to investigate the disappearance of Colin Mathews, a nerdy student who went missing years ago while investigating a supposedly haunted house with his classmates, Tristan Nolan and Kelly Mcgreevy. Most Likely To is an intriguing tale written by Kevin VanHook that offers a paranormal slant on High-School reunions as Mulder and Scully's investigation uncovers dark secrets from the past.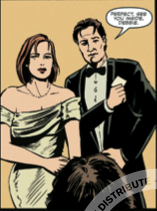 Overdressed, issued with nametags, and faced with the ultimate horror of mingling, the humor of the opening moments of the school reunion Mulder and Scully have gate crashed are priceless, and will certainly bring a few wry smiles. However, it seems Colin's former classmates have gone on to cash in on their friends disappearance, by using it as a basis for their paranormal reality TV show Ghost Encounter Survivors. Naturally enough, Scully is unconvinced, and she's not impressed by the footage in the show detailing the night that Colin was set upon by dark supernatural forces while Tristan and Kelly looked on either.
Kevin VanHook gradually builds the mystery and suspense, cleverly allowing the characters at the reunion to relay the story, until it slowly becomes apparent that there is indeed much more going on here than Mulder and Scully first thought. Colin was rumored to have psychic powers, but was his disappearance that night in the abandoned house really a paranormal event, why did Tristan and Kelly's volatile relationship seemingly change overnight, and were the Police somehow involved in covering everything up?
I really like the characterization of Mulder and Scully in this X-Files Annual; the chemistry between them is superb. VanHook also weaves some great surprise twists into the plot as Mulder and Scully get drawn into the mystery surrounding what happened really to Colin. It's all skillfully done, you will quickly find yourself engrossed in the storyline, and the unexpected developments mid-way though will keep you guessing right up until the end.

Mike Raicht's art really captures the tone of the X-Files perfectly. Mulder and Scully look great, there are a lot of characters at the reunion as well, and they all well realized and defined by Raicht. The facial expressions are also excellent, with the emotions clearly coming across, and this really highlights the subtleties of the plot as they gradually merge together in your imagination and become clear to you. The supernatural / psychic elements are also handled well; and the footage from inside the house sets the scene for the rest of the issue. The colors by Russell Walks also heighten the atmosphere of the story, interlacing past and present seamlessly with exquisite shifts in tone.
As Mulder and Scully begin to close in on the truth about what really happened to Colin Mathews, it reveals a twisted, guilt ridden scenario, one that makes the inexplicable possible, and the chilling dénouement is classic X-Files to the core. I found the X-Files Annual #2015, with its great story by Kevin VanHook and solid art by Mike Raicht, to be a thoroughly enjoyable issue and an impressive addition to the X-Files.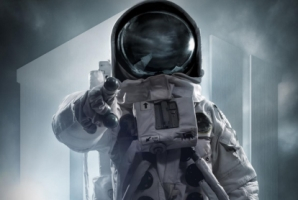 Paul Bowler is a self-Confessed Sci-Fi Geek, Doctor Who fan, and Zombie Disposal Expert. He likes movies, comic books, and all things PS3. He likes to write about his interests, would love to write a novel one day, and also enjoys chatting to the many people he has gotten to know on Twitter. When he's not busy being an Impossible Astronaut, he likes to take a break from his adventures in time and space to enjoy some of his favorite TV shows and movies, preferably with a nice cuppa tea & a sandwich! You can follow him on Twitter @paul_bowler, or find him at his website, Sci-Fi Jubilee.