(MARVEL COMICS, 2011)   -   Reviewed by Feral Fang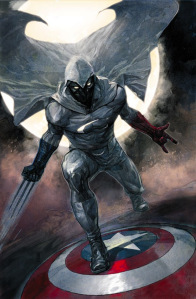 Moon Knight is a character I grew up seeing in multiple guest appearances, team-ups, and more.  I always thought he was interesting (kind of like a mix between Batman and the old Ragman comics), and whenever he has popped up in his own series or mini-series, I've bought them and enjoyed them.  Seems I missed the boat on this one, but luckily Marvel has put it into a trade collection, and 1 of 2 total!  This series only lasted to issue #12, which might speak to the fan response to this title but, like some of my other "odd favorites" like 'Power Man & Iron Fist', 'Deathlock', DC's 'the Spectre' and 'Deadman' - well these have never really been popular characters, even with Power Man hanging around the Avengers as Luke Cage.  So, back to this series.  I really enjoyed it!  It has a weirdly played out premise in where Moon Knight/Marc Spector is living in LA, working as a 'Soldier of Fortune Consultant' for a television show based on Moon Knight's origin and story - "Legends of the Khonshu".  He has four personalities in his head (did I mention he's kinda crazy in this?  Well, he is.), himself, a Wolverine, a Spider-Man, and a Captain America.  They all talk to him in their individual character personalities (Wolvie wants to tear everything up, Spidey is always cracking jokes and being silly, and Cap is the usual stick in the mud boy scout we all know and love), so that adds a nice touch.  Some of the conversations the 'other personalities' have together is priceless, especially when they go against type during some tense scene or two.  Another trick based on this idea is that he can more or less 'become' these three, sometimes one at once, sometimes a mixture.  You'll have to learn how that's possible when you read it, as I thought the way it was handled was perfect and wouldn't want to spoil the fun.  Along the way, he picks up some actual back-up in the likes of the superhero Echo, and his ex-SHIELD buddy Buck Lime, who now works on the same TV show designing the weapons Spector orders up for use.  Also along the way, Spector comes across a now-defunct Ultron body, which he takes the head from.  Needless to say, trouble boils up and eventually the real Avengers show to ponder why such a B-List character (as they constantly remind him, as well as people in the streets not knowing/guessing who he is) would have come across something so dangerous.  Anyway, my love for this book has me rambling!  This is a fun read, with a script by Bendis that both makes fun and is in awe of the main character, and Alex Maleev's artwork is one of the exact styles I'm always obsessed with - a little Bill Sienkiewicz, some line work that reminds me of John Romita Jr., and round it off with a bit of early Jae Lee, and hit "blend".  That might come close, but Maleev still has an individualism in his art that makes it feel fresh and new.  All as one package, I can see why this writer/artist team has gotten their share of awards, including the Eisner.  They work so well together, it really keeps the book moving strong, pausing a bit when needed.  My favorite scene (not really much of a spoiler) is when Buck Lime wakes from a nap on his couch to find a very angry Bullseye there to question him.  When Lime doesn't give anything up, it's revealed it was actually Spector in the Bullseye get-up, testing Lime's resolve.  Awesome, fun, and maybe not for everyone as it is a bit kooky.  I'll just leave it at this - I'll be getting collection #2 just as soon as I can.  Can't wait to see where this ends up.
— 4 out of 5 Borrowed Super Powers.
___________________________