(Albatross Funnybooks 2016)
By Eric Powell
Edited by Tracy Marsh
There's something really great about a credit that's literally two lines long, the creator and the editor, and speaks to a level of comic genius that is achieved by few.  "By Eric Powell" has come to mean something special to me.  Powell stands out for me as one of the best creators in the business, and his latest monthly book Hillbilly was a sure thing placement on my pull.
Hillbilly is a sword and sorcery tale that takes place in Appalachia, and the Hillbilly himself is the "wandering loner trying to make the world a better place."  Rondel was born to an unwed mother, and the two of them were shunned by their clan after Rondel was born without eyes.  He grows to be a hulk of a man with the "devil's own cleaver" and then there are witches and monstrous boars and lost children…it's a crazy ride up the mountain and down the holler.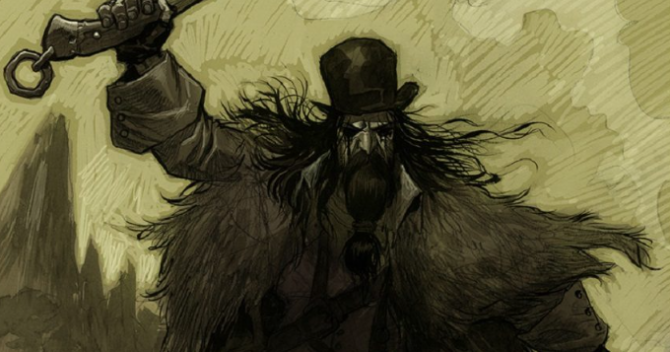 Eric Powell first captured my imagination with The Goon, and he continues to hold it in his ink-stained fingers with Hillbilly.  His world building is as flawless as ever.  From the back alleys of The Goon's universe to the Appalachian hills, Powell fills his sets with the greatest actors.  (And don't think that those two worlds don't cross over, there is some spoiler to a well-known Goon character making an appearance in issue 2.)  His style is very distinct, using monochromatic tones and slight variations to create a spooky feeling in the art, while he mixes cartooning and realism.  I feel like Powell is the nearest incarnation of Will Eisner, whose The Spirit did a lot of the same things visually as Powell's work does.  The creation of Rondel, the blind-then-given-sight hero of the book, is told in a traditional way, which makes it seem like American storytelling at it's best.  Powell has created a folk tale filled with witches and monsters, and it works in all the best ways.
There is a formulaic feel to it, a sword and sorcery tale of fear and shunning, trickery and revenge, and most of all the cursed hero.  It's a beautiful thing, and Powell has done a splendid job in re-inventing this genre and twisting to his own purposes.
If you look at any collection of Powell's work you see his influences.  There are heavy doses of EC Comics staples like Haunt of Fear and Tales From the Crypt, and the writing style encompasses all variety of comics greatness. 
Hillbilly #1 is just the first of what I hope to be another long-running series from Powell.  I'd love to see Rondel swinging that great hulking cleaver for another hundred issues.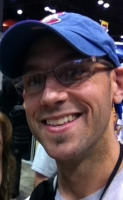 Brad Gischia is a writer and artist living in the frozen Upper Peninsula of Michigan.  He is married and has three kids and a dog, all who put up with his incessant prattling about comic books.
Twitter - [email protected]