(Marvel Studios 2015)
Summary: Inhumans have begun popping up all over the globe now that the Terrigen strain has been released into the ozone. Phil Coulson, Director of S.H.I.E.L.D., is leading a task force to detain these Inhumans before they unleash unknown catastrophe on the world. However he meets opposition from all sides including the U.S. Military. Things are not the same and this is a tale of a changed people.
"A Wanted (Inhu)man" Directed by Garry A. Brown; Written by Monica Owusu-Breen
[SPOILERS!!]
They can't all be winners, can they? Granted, this really wasn't a bad episode, however it was the weakest of the season yet. Even at 3 episodes in that's not too bad but something this show is good at is that once its hits a stride it tends to keep it for awhile. Having reached that stride from episode 1, then following episode 2, seeing episode 3 drop the baton kind of left a sour taste in my mouth.
Where then, did this episode go wrong? Well let's first begin by talking about the good parts so we're not being a completely debbie downer this time around. I am glad that Lincoln hasn't decided to join up with Coulson's team just yet. It would have been easier for the writers of this show to just say "yeah, he's on our side now," even though he's been hurt by both the Inhumans and Coulson's team in the past.
I also applaud Daisy's continued insistence on getting him to join. I really did like seeing Lincoln on the run this episode, and where he kind of ended up at the end of it. Well, where everyone ended up that is. But my favorite part of the episode was seeing Fitz and Simmons be human together, and while it was truly heartbreaking it was also nice to finally see Simmons stop playing the strong survivor and just break down right there in the restaurant. And like he did for Daisy last season, Fitz was there for her.
But unlike with Daisy where it was just friendly camaraderie, this time is different. This time it's someone he truly loves. I don't think anyone was ever going to suspect Fitz and Simmons would have the most powerful stories in this series, but they really do and it's all so genuine and heartwarming but also heartbreaking. I'm not sure what path they're headed down, but it's already impressive enough that these two have now lasted 2 full seasons going into season 3 and hey still haven't kissed or even became official. A true testament to writers who know where they're going and are going to play the long game with their relationship.
A breath of fresh air in this day and age.
I also like Hunter and May teaming up. I think they make quite the dynamic pair, and as long as we can keep from seeing the two of them shack up I think their arc is going to be a truly solid one. Everyone's got a bone to pick with Ward, but I'm glad it's these two getting the ball rolling down that steep and rocky hill. The fight club scene was really entertaining to watch, but is it just me or wouldn't it make more sense for HYDRA to take off all their graffiti so that they're a lot less inconspicuous with outsiders? I dunno, seeing the HYDRA symbol on the wall of this random sub basement just kind of made me chuckle.
It's the a-storyline however that I'm not very happy about when it comes to this episode. And yes there is a single scene in this episode that sort of ruins the episode for me just because I know where this storyline is headed and I just don't feel its built up to that properly just yet. Anyways, its within' this episode that Daisy leans in and kisses Lincoln in a moment of weakness allowing the two of them to express their true feelings for one another.
Now, I don't see Lincoln becoming the next Ward and become psycho crazy, but also am I the only one who doesn't want to see Daisy get a love interest until the entire Ward plot is finally dealt with permanently? Also, just like Ward Lincoln is the nearest pretty boy around her age, so it'd only be natural she fall for him. I'm not saying it's because he's a pretty boy that she shouldn't, but it's also… true. He is. There's two main pretty boy's in this show now. One is evil, the other is an Inhuman like her.
And I do remember how much he helped her gravitate into her new role as an Inhuman last year, I would not be surprised if Daisy's feelings for the man began there. However, as it is presented in this episode it's a subplot that feels as if it's come straight out of left field and I was very taken aback by it when it occurred. It was an "of course!" moment instead of an "awww!" moment.
Also, Lincoln killed a man just by barely zapping him. I don't care how much padding those soldiers had on, Lincoln should've fried them to a crisp when they attempted to capture him and he zapped them. And there's no way Lincoln's friend didn't know about the possible alien threat that's ALL over the news before picking Lincoln up and bringing to his home. Those are a bit continuity errors I would like explained to me.
Overall, not a bad episode, but it's also the episode that begins a subplot that I'm not sure I'll be wholly satisfied with and that… well, that just rubs me the wrong way. But considering I still can't consider this a bad episode, then that also means this show is keeping at least a level of satisfaction that I can be happy with in the end. I did enjoy all the b-plots in this episode, but that a-plot definitely needed some work. Final Score: 3 Wanted (Inhu)mans out of 5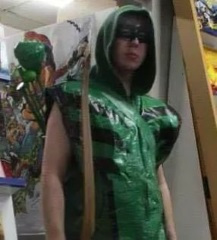 Derrick is a born and raised otaku with a love for comics, anime, manga and movies. The full list is pretty long, but that's just the basics. Stories set in space are his bread and butter. You can find more of his writing at IndieComix.net @KazekunForever