(IDW 2015)
Writer: John Barber
Art: Sara Pitre-Durdcher
Colors: Josh Perez
Following his appointment as a kind of space messiah, Optimus Prime attempts to find his role on Cybertron, but unfortunately half of the population hate him while the other half worship him. Back on Earth, Galvatron plans begin to take shape as he rallies the Decepticons to reclaim that which is theirsÖ Transformers #46, written by John Barber, with art by Sara Pitre-Durdcher, and colors by Josh Perez, marks the beginning of a new story-arc for this IDW series, and there will be some big ramifications for the Transformers as the countdown to issue #50 begins!
Transformers #46 sees writer John Barber skillfully balancing the action as events rapidly unfold, with Galvatron giving a rousing speech for all Decepticons from the Nemesis underwater on Earth to take back the universe, while Optiumus Prime watches the transmission as he visits Camien leader Mistress of Flame. The great weight of responsibility that now rests with Optimus Prime is exacerbated further by Galvatron's actions, now with the Mistress of Flame demanding to know why Optimus cares so much about the people of Earth, these new developments are certainly not going to make life any easier for Prime on Cybertron.
Returning from Caminus to Cybertron Optimus Prime is greeted by Camien hero Windblade, but as Optimus ponders his next move with the Council of Worlds and the other allies, it seems the chosen one, Starscream, has made a deal with the Devisens that could complicate matters. John Barber juggles a number of significant plot threads in this issue. Jazz finds himself in a tight spot following the mission to the South Pole, where Jetfire's team encountered three Zombie Combiners and Skylinx attempted to get them back to Arcee and the other Autobots on the Ark 7. But its while Garrison Blackrock visits Spike's cell at the EDC HQ that Blackrock's schemes involving his Onyx computers and operating systems - that use code derived from old Cybertronian systems - becomes apparent, and the Autobots subsequently find themselves in dire peril in space.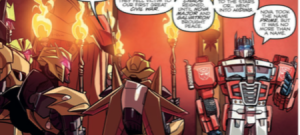 The artwork by Sara Pitre-Durdcher is bold and striking, there's great attention to detail, and each location has its own distinct tone and style - no mean feat considering the big cast of Transformers and human characters in this issue. Sara Pitre-Durdcher does a great job setting the tone of each scene as well: with the volatile exchanges between Optimus Prime and Mistress of Flame being a particular highlight, from there the mood changes dramatically as events shift back to Cybertron, where a run in with an angry Dinobot leads to a chance meeting between Optimus Prime and Aileron that finally allows Prime to address his concerns about his past actions and new role. Soundwave's commune orbiting Jupiter still has an integral part to play in the action too. Josh Perez's colors nicely complement Sara Pitre-Durdcher's art, there are some excellent views of Cybertron too, and Perez's intense color palette ensures every scene is vividly brought to life.
With the Decepticon warrior-leader Galvatron biding his time in The Nemesis while the Autobots remain trapped in the Ark 7 in space, Optimus Prime begins to look for the fabled Torchbearers, Soundwave receives an unexpected call for help, and Starscream receives some visitors who are in need of a favor. This issue is heavy on exposition and character development, but its still an exciting issue, and there's some terrific scenes to enjoy. Transformer #46 is brilliantly written by John Barber, each word of dialogue draws you further into the story, it sets the stage for this new arc perfectly, and together with Sara Pitre-Durdcher's great art, this IDW Transformer series remains a highly thought-provoking and gripping read.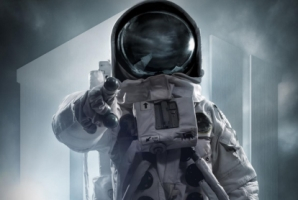 Paul Bowler is a self-Confessed Sci-Fi Geek, Doctor Who fan, and Zombie Disposal Expert. He likes movies, comic books, and all things PS3. He likes to write about his interests, would love to write a novel one day, and also enjoys chatting to the many people he has gotten to know on Twitter. When he's not busy being an Impossible Astronaut, he likes to take a break from his adventures in time and space to enjoy some of his favourite tv shows and movies, preferably with a nice cuppa tea & a sandwich! You can follow him on Twitter @paul_bowler, or find him at his website, Sci-Fi Jubilee.