(IDW 2015)
Writer: John Barber
Art: Andrew Griffith
Colors: Josh Perez
With a tenuous peace existing on Cybertron, the alliance with Earth Defense Command as Soundwave's Decepticon commune is constructed in orbit around Jupiter, and the Autobots close to deciphering the secret code in the Onyx systems Galvetron's Decepticons are ready to uses this current state of disunity to their advantage. Transformers #45, written by John Barber, with art by Andrew Griffith, and colors by Josh Perez, brings some startling developments to the fore in this latest issue of IDW's excellent Transformers series.
From the opening moments in the Earth Defense Force Command HQ, Transformers #45 finds ex-Decepticon Thundercracker waiting in the facility with Agent Jones and Commander Faireborne while Onyx CEO Garrison Blackrock visits agent Spike Witwicky in his cell. The ramifications of this meeting are far reaching, as Garrison reveals the hidden secret of the Onyx OS source code to Spike, and the full scale of this digital chimera quickly becomes apparent. While the Autobots wrangle over the nature of little robot D.O.C on Arc 7, De Facto Autobot leader Arcee dispatches Jetfire, along with D.O.C, Kup, Jazz, and Skylynx, to investigate the source of a mysterious Quantum Signal reflected in the Human Onyx Code near the South Pole. Meanwhile, the Decepticons are recruiting some surprising allies, but while Galvertron plots with Soundwave, Jetfire's team runs into trouble and the Autobots soon find themselves battling a gargantuan threat!
This is another good, solid issue, boasting an impressive line-up of Transformers and human characters. Writer John Barber entwines numerous plot-threads and locations as events being escalating on all sides. The scenes between Garrison and Spike are particularly good, as it becomes clear how Mr. Blackrock's Onyx computers and operating systems based on code derived from old Cybertronian systems will soon come into play. Barber also has a perfect handle on all the Transformer characters. I particularly liked the banter between Jetfire's team, especially when they uncover the threat at the South Pole, and Galvertron's scenes with Soundwave in the underwater Nemesis on Earth builds the underlying menace of the Decepticon's real intentions.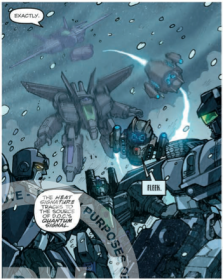 The artwork by Andrew Griffith is as strong as ever. This issue features a wide number of locations, we travel from the Arc 7, to the gleaming interiors of the Nemesis, even the South Pole, and it's a testament to Griffith's skill that he makes each one feel so distinct in look and tone. Scenes inside the EDFC HQ do seem a little bland in comparison, as most of it takes place inside Spike's cell, but there is a fun moment were former Decepticon and budding writer Thundercracker gets his fingers nibbled by Buster the dog. However, it's the exciting confrontation where the Autobot team encounter the lumbering behemoths at the South Pole - wryly nicknamed by Jazz during the battle - that provides this issues standout action set-piece. Josh Perez's colors also work really well with Griffith's art, brining extra depth and clarity to every scene.
Transformers #45 builds to an explosively tense cliff-hanger in orbit for the Autobots, the fallout crashes though everything, Garrison Blackrock's plan begins in earnest, and it seems Galvetron understands his enemies far better than even they realize. This is another resoundingly good issue of this IDW series, with its fast-paced storyline by John Barber, excellent artwork by Andrew Griffith, and eye-catching regular cover by Griffith and Perez, Transformers #45 is an unmissable issue for Transformers fans.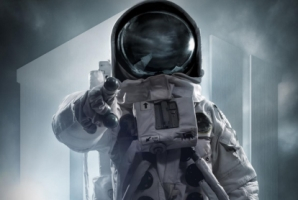 Paul Bowler is a self-Confessed Sci-Fi Geek, Doctor Who fan, and Zombie Disposal Expert. He likes movies, comic books, and all things PS3. He likes to write about his interests, would love to write a novel one day, and also enjoys chatting to the many people he has gotten to know on Twitter. When he's not busy being an Impossible Astronaut, he likes to take a break from his adventures in time and space to enjoy some of his favorite TV shows and movies, preferably with a nice cuppa tea & a sandwich! You can follow him on Twitter @paul_bowler, or find him at his website, Sci-Fi Jubilee.