(Image Comics, 2015)
Story by Eric Powell and Tim Wiesch
Art by Eric Powell
Eric Powell and Tim Wiesch unleash the second part of their grind house little person masterpiece, and boy does it deliver. I knew this story was gonna get violent and over the top, and I knew I wasn't gonna believe what happened next, but…man…kudos guys. This story is turning into something I'm really hoping gets adapted into a movie, a straight to DVD unrated movie. Take my money now.
Big Man Plans follows the title character, a little person who has been abused his whole life, on a revenge mission in a small town he once lived. Big man was taunted and beaten up my other little kids, lost both his parents and was used to clear fox holes in Vietnam. All the past issues in his life and helped create a jaded, violent man who doesn't seem to play by any of the rules. The reader is transported to a dark gritty world where cruelty and violence seem to be a very prevalent part of life.
We return to Big Man and his mysterious revenge mission in a small town that seems to have done absolutely nothing good to our main character. This time around the tides may have changed, our 'hero' encounters his first obstacle on this road to redemption and we get to see that he isn't super human by any stretch. After the deputy is murdered via a brutal beat down with a drywall hammer, the local authorities dish out justice in a very inhospitable way. The reader is also shown another flashback scene involving Big Mans father and a conversation that provides insight into the titular characters do or die ethic.
I could not wait to read this book, and let me tell you, I was not disappointed. Powell's artwork, dark and washed, continues to set a grim tone to this narrative. The writing continues to be top notch; conversations flow as smooth as the story and they combine to help immerse the reader in the story. I really didn't think a book could open with something more shocking than a grenade in a bar but that was trumped by the image of a mans knee being bent backwards. Fair warning; the hammer attack is brutal, even for a comic.  I really enjoyed that Big Man didn't just run through this series and destroy everything without facing some violence himself. I loved the ending of this issue, the duo keep leaving you wanting more; you see the last couple images and think to yourself " man, someone is about to get messed up". I really have nothing bad to say about this issue or the series so far. Big Man Plans keeps me wanting the next issue, keeps me entertained and now, it'll keep me looking behind cars for people with drywall hammers.
---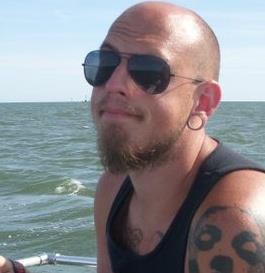 Lewis is nerd from Baltimore that is forced to work when he'd much rather spend his time reading comics, playing video games and getting fat.Review