(Valiant Entertainment, 2015)
Writer: Matt Kindt
Art: Trevor Hairsine
Inks: Ryan Winnen
Colorist: David Barron
The most startling Valiant debut of 2015 continues in Divinity #2 (of 4), with the arrival of a new divine being as his powerful influence on the world takes effect. This Soviet cosmonaut, Abram Adams, was sent into space during the Cold War on a secret mission to the edge of reality itself, a mission from which he would never return until now! The spacecraft has suddenly reappeared in the Australian outback. Possessing the powers of a god, this cosmonaut known only as Divinity, has created a paradise in the desert. Some believe him a savior, others fear might herald a new Communist Age. The world's forces must now decide their next move - but will Divinity offer peace or make Earth's heroes suffer his divine wrath instead?
Divinity #2 intriguingly builds on events from the opening issue in the second part of this new VALIANT NEXT prestige format limited series, written by New York Times best-selling writer Matt Kindt (The Valiant, Rai) and renowned artist Trevor Hairsine (X-Men: Deadly Genesis), where the full implications of Abram's return to Earth begins to be felt as the world's powers plan their response. The issue begins with a surreal, almost dream-like quality, as the Seal team sent to investigate the glorious biome Abram has formed in the Australian outback is miraculously transformed by what they discover.
Matt Kindt gives us further insight into Abram's life in this issue. Orphaned at a young age, Abram was chosen by the Soviets to pilot their top-secret mission to the farthest reaches of space. He was the perfect candidate, with no earthly ties, but they were unaware Abram's also had a girlfriend, Eva. It is these emotional flashbacks to Abram's time with Eva, and the news she has for him on the night before he leaves Earth, which resonate most deeply. These moving scenes are sublimely counterbalanced with the bleakness of Abram's voyage, the physical strain of his journey are punctuated by the anomalous effects caused star-loops, where decades of old radio signals from Earth unfold like ghostly newsreels from the past.
Although the plot jumps around in time quite a bit, it's never convoluted or difficult to follow, if anything, the mix of flashbacks is beautifully inter-cut as the key elements of the plot begin to fall into place. Each scene and timeframe are seamlessly spliced together to create a smoothly flowing narrative, fusing the high-concept intricacies of interstellar space travel with the pivotal historic moments for humanity, as the world stands transfixed in the present day to see what Divinity will do next.
Most intriguing though is the elderly man - one of the former scientists that sent Abram into space - who is now driven to approach the site for an audience with Divinity himself. It is here that Divinity #2 really begins to explore the extent of what is happening within the sphere of Abram's influence. It becomes clear that Abram is giving people far more than their hearts desire; he's actually looking much, much deeper, freeing the mind, body, and even nature itself to provide a greater understanding. Yet for all the sights and wonders this scientist witnesses it is his journey that soon becomes the most astonishing of all.
Penciller Trevor Hairsine delivers another gorgeous looking issue of Divinity, with this second issue of Valiant's new mini-series, and the striking visuals Hairsine has crafted here delve further into the mysteries of what happened during Abram's mission and his subsequent return to Earth without warning after being missing for so long.            Divinity #2 is packed from cover to cover with spectacle on a grand scale: Abram's emotional last night on Earth with Eva, the biome in the outback and the sight of a transformed soldier reassembling in a flurry of butterflies is a beautiful moment, the radio messages Abram's capsule intercepts are hauntingly bizarre, we've a trek through lush forest past newly evolved life forms, the way we arrive at the towering mobile headquarters for unity (MI6ís elite tactical team) is equally impressive, and the finale scenes are charged with energy and tension as the heroes embark on their mission.
Trevor Hairsine's art conveys every iota of the intense emotional and psychological aspects of this issue perfectly. Inker Ryan Winnen brings an added depth and clarity to Harisine's work, making every scene stand out on the page, while colorist David Barron uses exquisite hues and tone that lavishly enhance the textures and environments to an unparalleled degree.
With XO Manowar, Ninjak, Livewire, and Eternal Warrior dispatched to deal with Divinity towards the end of the issue, there is a growing sense of unease as the heroes close in on their target that leads to some shocking final moments. This Valiant mini-series works on so many levels, blending sci-fi elements with a kind of uncanny, almost mystical aspect that's intensified by the effect of Abram's powers on his surroundings. While it's certainly not you atypical Valiant title, Matt Kindt's innovative story instantly grabs the attention as the compelling plot gradually unfolds, while Trevor Hairsine's incredible artwork dazzles the senses. Divinity #2 is another great issue, so if you're looking for something one step beyond the extraordinary on new comic book day, then this space odyssey with a super-hero twist is the book for you!
---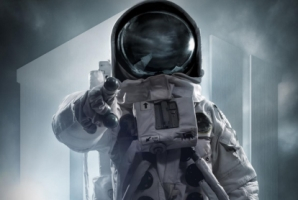 Paul Bowler is a self-Confessed Sci-Fi Geek, Doctor Who fan, and Zombie Disposal Expert. He likes movies, comic books, and all things PS3. He likes to write about his interests, would love to write a novel one day, and also enjoys chatting to the many people he has gotten to know on Twitter. When he's not busy being an Impossible Astronaut, he likes to take a break from his adventures in time and space to enjoy some of his favorite TV shows and movies, preferably with a nice cuppa tea & a sandwich! You can follow him on Twitter @paul_bowler, or find him at his website, Sci-Fi Jubilee.