(IDW Publishing, 2015)
Written by Graeme Manson and John Fawcett with Jody Houser
Art by Szymon Kudranski
Colors by Mat Lopes
Letters by Neil Uyetake
I am a tabula rasa when it comes to Orphan Black. I am, in fact, writing this forward before I've read either of the comics, numbers one or two, so that I can try to get a before and after impression.
My "before" impression. I have none, though as I look through the PDF and the 14 alternative covers…14…I wonder what the big deal is. I've seen commercials, just the short trailers that come before or after my reruns of Dr. Who on BBC America, and I've heard talk that it's great. Can a television inspired comic make me want to go back and watch the show?
My "after" impression.
That first issue was a whopper, coming in at 71 pages, but take away ads and extra covers, it was still just a regular sized comic. (Part of this is also because all of the variants were included in the PDF, and not in the print edition.) I don't fault IDW of course, variant covers are popular and with a show that is hot it makes sense to put out as many as possible. That being said, this was a solid first issue, but probably better understood by fans of the show.
Sarah is a…twin? Clone? Not sure quite yet, but she's found out that she's not the only one with her face. In fact she watches someone with her face jump in front of a train. As a seasoned con artist, Sarah takes advantage of this strange happening to sneak into someone else's' life, her twins, Elizabeth Childs. Problems quickly ensue when Sarah finds out that Beth was a cop, and that she was on the trail of whatever weirdness spawned them.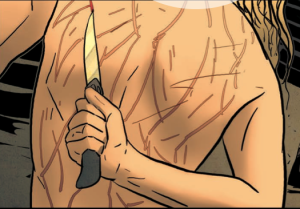 Issue 2 starts with a new character, Helena, a girl who spent her growing up years in a pit, being trained as an assassin and follows her through some traumatizing flashbacks rendered in black and white, to her current mission, that of the killing of Beth Childs, who is no longer Beth Childs but Sarah.
Yes, it's confusing. Are these all supposed to be copies of the same person? It seems like that's a distinct possibility. The overall impression after two issues is that it's not so much the following of one characters' story, but that of following several stories about the different paths of the same character, i.e. Sarah. (Or Beth, or Helena.) The flash-forward to issue 3 seems to imply that there will be a whole new story arc added in with another woman.
Being in the dark about the show perhaps doesn't make me the best judge of the content. I could be missing the point entirely. Perhaps I didn't read them closely enough and missed a lynchpin to the whole plot. Like I said, this was recommended to me. On the other hand it seems like if I was a fan of the show, which is about to launch the third season in April, I would have some extra information that may perhaps be vital to the total understanding of what is going on. As of now, the confusion still reigns.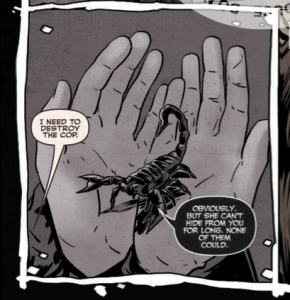 Szymon Kudranski's art is great, his ability to capture the likenesses of the characters great, and to keep enough similarities in the facial structure and body type to see that these are supposed to be clones of each other. I loved the black and white portions for the flashback, seeing it as a simple yet completely effective way to indicate what was going on.
I don't discount this comic. On the contrary, it has aroused my interest in the series, making me think that while my BBC favorites like Sherlock and Dr. Who are on break I should be catching up on Orphan Black. In this the comic is successful, and perhaps, by engaging my interest and piquing my curiosity, that's exactly what it was supposed to do in the first place.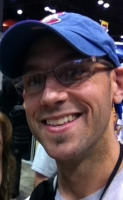 Brad Gischia is a writer and artist living in the frozen Upper Peninsula of Michigan. He is married and has three kids and a dog, who all put up with his incessant prattling about comic books.
Twitter - brad@comicwasteland