(ComixTribe, 2015)
Story by John Lees
Art by Iain Laurie
Colors by Megan Wilson
Letters by Colin Bell
Variant Covers by Riley Rossmo, Nick Pitarra,
Garry Brown, Joe Mulvey, and Cody Schibi
And Then Emily Was Gone is a horror story on more than one level. It is a creepy and utterly fantastic fairy tale set in modern day Scotland that explores several levels of the horror genre and taps into them with great success. This was, as far as I could tell, one of the most surprising hits of last year, and with that success comes good things for creators John Lees and Iain Laurie.
I'll give you the non-spoiler Cliff's notes on the book. Emily is missing. In the process of trying to find her, Fiona, Emily's best friend, acquires the help of Greg Hellinger, a broken and only partially sane private investigator who sees monsters in every shadow and hasn't slept well in months. They travel to Merksay Island to unravel the mystery, all the while encountering creatures fantastic and mundane, though even the mundane ones are bizarre.
This book succeeds because, for one, it is utterly unsettling. That really, is the basis for all good horror stories; the ability to set you off your game, to make you question what you believe is the truth, even if it's only within the boundaries of the story. And Then Emily Was Gone brings in the fairy tale creature of Bonnie Shaw, an otherworldly creature who makes deals with parents, helping them out of difficulty, for the price of their children.
Ok. That in itself violates the most basic of laws within our very nature. The protection of ones' offspring is tantamount in most creatures, and the idea that any parent would bargain their child for…let's say a million bucks, seemed ludicrous. (I know. This probably happens everyday, and for far less money, but let's stick to the much happier realm of fiction.)
Greg Hellinger, as a hero, is unreliable from the start, a man who doesn't trust his own senses, who sees monsters lurking behind every facet of his life. We want our heroes to be strong and confident, and Hellinger, though proven strong in a different sort of way by the end of the book, is not typical in these respects. His faults increase our trepidation as the book progresses.
John Lees writes in a way that reminds me of Alfred Hitchcock's style of filmmaking. The way he cuts the script, the shots he chooses to highlight, heighten the tension while letting the reader assume things that are only implied.
The art team of Iain Laurie and Megan Wilson (colors) are perfect for Lees' tone. A side story here. The first time I watched Monty Python's Meaning of Life, the film was trucking along madly, I loved it, laughing, memorizing quotes for later regurgitation, and then the middle of the film happened. There is a short in the midst of the film that has this weird elephant headed butler and Terry Jones with these long arms reciting poetry, it was so bizarre at that moment that I was completely unnerved. Iain Laurie's art does the same thing to me. He captures the unsettling nature in the Merksay people, the Night Circus people, everyone, so that when the story is trucking along you suddenly realize that that nagging feeling in the back of your chest is a nervousness you didn't realize was there. Megan Wilson's colors add a sickly, washed out paleness to the characters that make them seem all the stranger.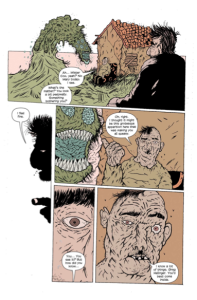 This is the trade, so there are extras packed in. All of the variant covers are featured, including art by Riley Rossmo and Cody Schibi among others. There are notes from the author that show his process, a feature that is endlessly entertaining to me as a comic creator.
Mark your calendars for February 4th and get to your comic shop.  And Then Emily Was Gone Vol. 1 ends in a way that will have you clutching your trade, flipping the pages back, wondering if you missed something, and realizing that Lees has had you this whole time, held adroitly between thumb and forefinger, waiting to squish you to pulp at the right moment. The corruption of innocence bound up in a horrific tale of child napping brings about one of the best books of last year, and certainly the best horror story I've read in a long time.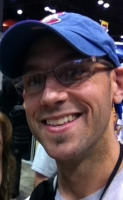 Brad Gischia is a writer and artist living in the frozen Upper Peninsula of Michigan. He is married and has three kids and a dog, who all put up with his incessant prattling about comic books.
Twitter - brad@comicwasteland