(Marvel Comics, 2015)
Writer - Peter David
Artist - Carmine Di Giandomenico
In light of the Earth shattering Secret Wars announcement from Marvel earlier this week, the cancellation of a little but loved series like X-Factor gets lost in the shuffle. This is most likely what led to the book being cancelled with this its 20th consistently well written and entertaining issue, it got lost in the Marvel Now shuffle, overshadowed by bigger books with more hype that were more tied into to the big crossover events.
A major part of All New X-Factor's appeal was that it felt like it existed on its own, in a very private corner of the Marvel Universe where a hand full of corporate mutant heroes for hire could make a difference. It was a charming book imbued with all the usual Peter David eccentricities and wit that have garnered the prolific writer not only major critical acclaim but the undying love of a legion of diehard fans and deservedly so, I might add. David has a magical style and a penchant for crafting engrossing stories full of very human characters whether they are mutant, alien or even synthetic beings, as is the case with two of X Factors most endearing members, the sexually curious robotic duo of Danger and Warlock.
The final issue ties up a few on-going plot threads while leaving the door open for future narratives featuring the Serval Industries sponsored super hero team. There has been speculation that the demise of the series was at least partially due to Quicksilver leaving the team for greener pastures with the Avengers, however that rumor is staunchly denied by David who insists that is was nothing more than lackluster sales that precipitated the cancellation. David went on to denounce the practice of waiting for the single issues to be collected into trades for the simple fact that the single issue sales are what keep a series alive and on the shelves month after month.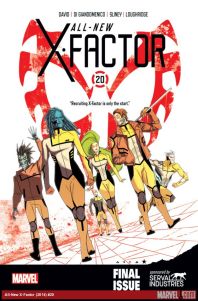 There is an extremely clever revelation at the conclusion of this issue that could see light in the gigantic Secret Wars event coming in May. It involves Serval CEO Harrison Snow and his desire to recruit every mutant in the world as part of his detailed plan to take out the sinister Alchemax Corporation. His plan involves the Avengers and Spider-Man 2099 which could easily pull this plot thread into the intricately woven tapestry of Battleworld. I sincerely hope we have not seen the last of these characters as a team; there is a chemistry between these teammates that is unique and complex, it transcends family for some and species for others but it always produces dynamic stories and razor sharp dialogue. From Polaris and Quicksilver's ceaseless squabbling, Warlock and Danger's confused attempts at understanding human sexuality to Gambit's Han Solo-like swagger with a Cajun twist it all worked together to give us one of the most original and imaginative books in Marvel's dizzying array of monthly offerings.
Not only was the writing captivating and the plots inventive, but visually All New X-Factor was in a class by itself as well. Series Regular artist Carmine Di Giandomenico brought a kind of graphic design sensibility to the book that immediately set it apart from the other Marvel X Books; in fact it didn't look like anything else on the racks at the team. The character designs are slick and highly stylized right down to the 80's inspired uniforms. This issue Di Giandomenico is joined by Spidey 2009 artist Will Sliney, their styles are vastly different but the contrast works while with this particular narrative. Sliney has a slightly more realistic interpretation of anatomy which works very well on the scenes with Miguel O'Hara and Harrison Snow. Colorist Lee Loughridge brings a vibrant palette that electrifies every page. This is a very fitting finale to an underappreciated series that consistently entertained while giving our eyes some stunning images to feast upon. If you missed out on this thoroughly satisfying series, please grab the collected volumes when they come out, you will be glad you did. I am certainly going to miss this book, but with everything Marvel has in store for us in the very near future I will have to catch my breath first. It is certainly a great time to be a True Believer. Excelsior. (4.5/5)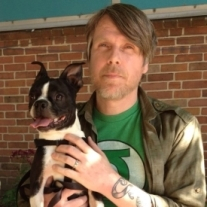 Shawn is an aspiring writer/ artist who has been reading, collecting and living comic books for over 30 years. He lives in Baltimore with his wife, their son, lots of cats, dogs and other various finned and furry friends.