(Image Comics, 2014)
Writer – Michael Stock
Artist – Sina Grace
Colorist – Tamra Bonvillian
Letterer – Hope Larson
Wishing for things is bred into us from a very young age.  We're told by our parents to wish on stars, birthday candles, when the clock hits 11:11, and if you're like I was when I was little, I always wished for the same thing.  The Millennium Falcon.  The Hasbro one, with the chess table and spinning quad gun on the roof, and the break away top piece so you could move your Star Wars figures throughout the cabin.  I know.  It's not the most selfless wish, I could have wished for world peace or the end to world hunger, but I was a little kid, and that was the be all end all for me.
I never got it, but that never stopped me from wishing, and even to this day I think of that wish with a strange and comforting fondness.
Michael Stock brings us his version of that childhood wish with Penny Dora and the Wishing Box, new from Image this week.
Penny and her mother live in the perfect community of Cuesta Verde, where everything has been planned to a tee.  Even the fact that Penny's parents are no longer together seems to work all right for everyone, just another way to keep on keepin' on in this idyllic little town.  And then Christmas comes, and with it the strange little box with the peeling paint and tarnished hinges.
This is a fairy tale, the story of someone who gets everything they want at the tips of their fingers.  It's our clever answer to the genie's query…"I'll take infinite wishes…har har har, got one over on you silly genie."  But the question looms, what is the price?  To reckon back to a Wes Craven film, but The Wishmaster had the right idea.  Every wish has a consequence, and those consequences are a sinister something that Stock can explore.
Sina Grace made his bones editing The Walking Dead and Invincible at Image, and drawing L'il Depressed Boy.  His style is not strictly realistic, and has just enough of a cartoon influence that it enforces that feeling of whimsy that is infused in the story.  That style also has the ability to lull us into a false sense of security.  If Grace has taken any cues from the head writer on the books he's edited, we should be on guard for the carpet being pulled from beneath our feet.
Both Stock and Grace have styles that meld well together, and because both have worked several different aspects of the comic industry, it feels like together they have a good idea of what it takes to get a comic out and to keep it as close to the idea that they were shooting for.
Penny Dora and the Wishing Box throws our childhood fancies back into our faces.  What is it that we want most in this world, and if we could have it, what would we give up for that thing?  The price hasn't been discussed yet, but be certain that the price tag is flapping in the breeze, and whatever it reads will have great implication for Penny and those close to her.
---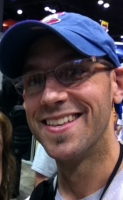 Brad Gischia is a writer and artist living in the frozen Upper Peninsula of Michigan. He is married and has three kids and a dog, who all put up with his incessant prattling about comic books.