(Black Mask Studios, 2014)
Written & Created by Matt Miner
Pencils & Inks by Jonathan Brandon Sawyer
Colors by Doug Garbark
Lettered by Jim Campbell
The world of the comic book reviewer is as broad as the Internet.  There are millions of opinions, ever more millions of fans, and when you do a quick search, what seems like more competition for views than any one site could master.
My role in this strange world of unsought opinion giving has been relatively short (a little over a year and a half since my first reviews starting posting).  But in that time, I've had the opportunity to read books from some great writers, I've seen art that blows my mind every time I look at it, and the number of books I read from the big two has gotten exponentially less as time passes.  Don't get me wrong, I still enjoy picking up issues of Batman, (mostly from the 80's or before) but I don't follow any big two titles.  Because of the access I've gotten to the indie book market, it's like I've suddenly gained access to a private club, full of interesting work and crazy good stories.  (This is a broad definition of indie; I'm including everything but Marvel and DC here.)
This is where I first read something by Matt Miner, whose first book, Liberator, showed me how a passion for two disparate things can make a fine story beneath the pen of a skilled writer.  It's been amazing to watch the upward trend, from Liberator to the second series, Liberator: Earth Crisis, and now to Critical Hit, which Black Mask Studios dropped recently.
Issue one ended with Jeanette and Sarah in the clutches of a group of hunters whose compound they just torched.  These hunters aren't happy, and they waste no time showing the two liberators how they feel about them.
The first book ended at a moment of high drama and tension.  Imagine the story was a steel guitar string, and at the end of issue one it was tuned sharp.  As issue two progresses Miner twists the key, tightening, tightening, letting it draw out, keeping that tension at the back of your mind all of the time.  If you've ever tuned a guitar you know what this is like.  As you twist that key, you listen to the sound, always straining upwards, and you know, you just know, that it's going to break.  Miner keeps the tension up and carries it through the whole issue.  I found myself actually reading through panels without really looking at the artwork, my eyes moving a little faster then I wanted them to, trying to devour the story, my brain filling in the spaces that I missed with all the stuff I hoped wasn't happening.  It's a great way to tell a story, one that brought out an actually physical reaction in me that I wasn't expecting.  It's great storytelling, and Miner has really come into his own in the comic genre.
Jonathan Brandon Sawyer's (Liberator, In The Dark) work is as good as most other work on the market; showcasing his own style in a way that reminds me of work I've seen from companies like Image and Dark Horse.  It's perfect for the tone of the book and matches well with Miner's story.
Black Mask Studios has several books that should be at the top of the comic rotation if they aren't already, and Miner's is one of those.  He's taken his passion for animal welfare and his love of comics and blends it into a great story with Critical Hit.
---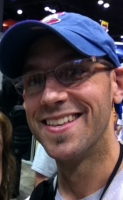 Brad Gischia is a writer and artist living in the frozen Upper Peninsula of Michigan. He is married and has three kids and a dog, who all put up with his incessant prattling about comic books.