(Alterna Comics, 2014)
Written by James W. Powell
Penciled by Jethro Morales
Inked by Mike Erandio
Color Artwork by Brian Dyck
*WARNING: Spoilers!
Well, reader, we are back at it with The Boy Who Wanted War, and I have to say this comic is a mind turner – but enjoyable all the same. And with that, lets look at The Boy Who Wanted War.
Our story starts off on a futuristic earth where three children  - two boys and a girl – are playing a war game around a tree. The children's play is quickly interrupted by planes flying above, and like most children, these children become curious and decide to follow them. The children follow the planes to an airfield where soldiers are loaded onto the planes. But the soldiers aren't normal, they all look like grown versions of one of the boys, Kardson. As the children watch the soldiers they talk about them and the war. Through their talk, it is revealed that Kardson's parents created the soldiers – who are clones of Kardson, just older – and that they were created so that "…no human has to fight on Earth II." As they continue to talk, we also learn that Kardson wishes to go and fight. Though it is not revealed yet why he wants to go, I can only wonder what's going on in his head.  The soldiers are cloned versions of him. Yes they are older, but they are still clones – and yet, everyone says they aren't human. But they are clones, so does that mean Kardson isn't human? And more than that, if you saw yourself going off to war, wouldn't you want to go too?
Fast forward a few years and we see Kardson all grown up talking with his female friend, Skylar, now his girlfriend/wife. Kardson is upset that he can't go to war. His other friend, Anders, is now off at war, why can't he? Of course, the answer is provided, his parents cut a deal that if they kept creating the clone soldiers, Kardson would never be allowed to go to war. The discussion soon turns into a fight when Kardson's parents come into the room. Kardson's dad informs him "there are no heroes in war" even though his father is a decorated war hero. After a bit more fighting Kardson says, "If it's good enough for my brothers, it's good enough for me" before running off. Which leads me back to wondering what did all the years of seeing his "grown self" go off to war do to young Kardson.
Kardson and Skylar are latter seen talking under the same tree they used to play under and it's revealed that Kardson wants to go to war in order to make his parents proud – because all they ever talk about is the soldiers. After this, Kardson sneaks off and hides among the soldiers in order to be shipped off – and it works. Kardson goes up into space, and while he enjoys being with his friend Anders again, the soldiers don't like him – saying he isn't one of them. As war stories go, they all go off into battle, and during the battle, Anders is shot and killed. As Kardson grieves for his friend and wonders what he was thinking by going off to war, one of the soldiers comes to him and says, "I know he was your friend. But keep in mind we're your brothers." With this, something changes in Kardson, and he takes charge, leading the soldiers to victory. Of course, in the process, Kardson gets hurt, but returns home with a heroes' welcome…
…Or does he?
___________________________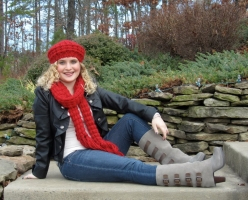 Ali is a creative writer with an emphasis on Sci-Fi/Fantasy and Comic Books. She first fell in love with superheroes when they were used to teach her to read. When not practicing at her dojo or out seeing the latest superhero movie with her friends, Ali can be found curled up on the couch with her dog and a good book.