(Image Comics, 2014)
Writer: Kel Symons
Art & Colors: Mathew Reynolds
Lettering & Design: Pat Brosseau
The seafaring adventures of Captain Jack Harper and the crew of the Venture, a refitted German U Boat, continues in The Mercenary Sea #4 as their mission to rescue a British spy, code-named "Top Hat," from Japanese soldiers takes an unexpected turn. After a tense confrontation at sea with their old enemy Captain Tono of the Imperial Japanese Navy in the last issue, Jack and his men, together with British Intelligence agent Commander Graham, travelled to the rendezvous point and went ashore. Their search quickly brought Jack and his team to a Chinese fishing village. Now they must confront the Japanese soldiers that have captured Top Hat and find a way to escape from the fishing village…
"Mad Dogs and Englishmen" is another exciting issue in this Image Comics series, written by Kel Svmons, with stunning art by Mathew Reynolds, and lettering by Pat Brosseau. The Mercenary Sea has a terrific premise: set in 1938 - The South Seas after Japan has invaded China, and with war imminent in Europe, Kel Symons has taken this very traditional pulp adventure series format and made it into something really special indeed.
The Mercenary Sea #4 focuses on Captain Jack, Doc, a British army surgeon,  the ex prize-fighter known as "Stack" from Chicago, and machinist's mate Do - pronounced "dough" from China, as events unfold over the course of the issue. It also seems that Commander Graham hasn't been entirely forthcoming about the finer details of their mission either, especially those which concern the British spook Top Hat. This series has some great characters and Kel Symons is really developing an exciting dynamic between the crew. With such a great mix of nationalities, skills, and personalities between them, the crew of the Venture make an excellent team, and events in this issue show just how well this rag-tad band of mercenaries and treasure hunters work together - especially when their backs are against the wall and they have to fight their way out of trouble.
Mathew Reynolds work on this title is astounding, his art continues to impress on every level. His unique style, with its boldly defined characters, and sublime use of tone, shadow and perspective to draw you into every panel, enhances the distinct film-cell quality of  The Mercenary Sea to a level where it takes on a kinetic energy all its own. The stylistic lettering and design by Pat Brosseau adds a further layer of realism to the action, with explosions and rapid gunfire blazing left right and centre, you almost feel like you are right in the thick of the action. I like how the legend of Koji Ra is also kept bubbling away in our imaginations, it's a nice touch, and really adds to the great spirit of adventure that makes this series so appealing. Another big highlight of The Mercenary Sea #4 are the scenes in the jungle, with the deep greens and textures of the dense vegetation and the bold foreground contrasting perfectly with the softly out of focus background, before it all slowly melts away in the haze of the coming dawn as our adventures prepare to face their next peril.
This issue keeps the plot moving along at a brisk pace, with lots of different locations, and there is plenty of action along the way as well. Symons also introduces a few new characters into the mix this issue, we finally get to meet Top Hat, as well as Communist guerrilla Chen Xie. The Mercenary Sea is a great series and I highly recommended it. With its lavish attention to detail, great characterisation, and incredible art, The Mercenary Sea #4 is another brilliant issue by Kel Svmons, Mathew Reynolds, and Pat Brosseau, tally ho chaps!
___________________________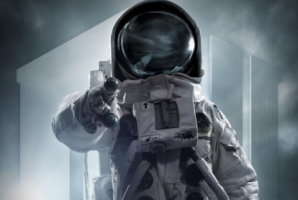 Paul Bowler is a self-Confessed Sci-Fi Geek, Doctor Who fan, and Zombie Disposal Expert. He likes movies, comic books, and all things PS3. He likes to write about his interests, would love to write a novel one day, and also enjoys chatting to the many people he has gotten to know on Twitter. When he's not busy being an Impossible Astronaut, he likes to take a break from his adventures in time and space to enjoy some of his favourite tv shows and movies – preferably with a nice cuppa tea & a sandwich! You can follow him on Twitter @paul_bowler, or find him at his website, Sci-Fi Jubilee.