(Dynamite Entertainment, 2014)
Written by Jeff Parker
Illustrated by Evan Shaner
Colored by Jordie Bellaire
Lettered by Simon Bowland
Welcome back kids!  It's another Saturday afternoon, you've got a quarter burning a hole in your pocket, and there's a new Flash Gordon serial on at the Butler Theater!  Come in, enjoy the cool dark smell of buttered popcorn, and relax in our musty comfort.
That's the feeling, appropriately, that you get when you pick up the second issue of Flash Gordon.  It's a call back to the serial film and the weekly TV show, the media that made the character so popular along with the radio drama, and only one reason why this book is going to stick around.  Dynamite has taken that serial feeling with all of their licensed characters; a format that worked well when they were first introduced and still does.
Flash and his cohorts, Professor Zarkov and Dale Arden are stuck on a planet called Arboria, a forest planet inhabited by blue-skinned…no…they don't have tails…people led by Prince Barin.  The Earthlings said they were historians from Mongo (Ming the Merciless' home planet and throne of the galaxy) so as not to be filled with arrows upon their arrival.
In issue 2 we return to Arboria and find that Dale's off-the-top-of-her-head story about them being historians from Mongo doesn't sit well with Prince Barin.  He drops several huge and glaring hints that he isn't happy with the Mongori rule, and that he's heard that one planet, Earth, has resisted successfully.  Flash et al. continue to explore Arboria, sampling the local culture in the form of giant pill bug wrangling.  Of which Flash is of course a part.
Jeff Parker (Batman '66, Thunderbolts) keeps Flash right in the wheelhouse of where the first incarnation of the character had him.  He is the All-American small-town hero.  He's takes the moral high ground.  He's everything that a "good American" should be, at least according to the standards of the 30's when he was conceived.  Parker's Flash is a doer, acting before thinking, jumping into situation without thought for personal safety.  Of course, this is the kind of hero that makes for good reading, one that creates his own drama, a walking disaster.  Dale Arden and Prof. Zarkov, the thinker and the scientist, balance his personality.  Together they make one complete character.  They are the superhero deconstructed, broken into separate but essential elements.
The art is a callback as well and looks like newspaper strip art. That great realistic style that you can see in strips like Prince Valiant and Dick Tracy is echoed here.  Evan Shaner (Adventures of Superman, Blood Brothers) pencils in large blocks with little dark shading in the forms.  He doesn't rely on large patches of darkness but instead lights everything, which forces him into detailed, fantastic backgrounds.  Jordie Bellaire (The Manhattan Projects, Deadpool) lends her brilliant colors to this comic, muted tones that help with that newsprint feel.
Flash Gordon continues to deliver adventure and amps up the worry for our heroes, a great cliffhanger that is the perfect ending for the book.  Dynamite brings the boom in the form of Jeff Parker, Evan Shaner, and Jordie Bellaire.  It's an adventure comic that you can unabashedly enjoy.
___________________________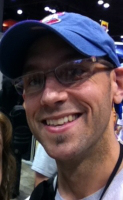 Brad Gischia is a writer and artist living in the frozen Upper Peninsula of Michigan. He is married and has three kids and a dog, who all put up with his incessant prattling about comic books.