(Image Comics, 2014)
Created, Written, & Drawn by Bryan Hitch
Inked by Paul Neary
Colored by Laura Martin
Lettered by Chris Eliopoulos
Production by Drew Gill
Well, reader, what can I say about Real Heroes… How about you will never see it coming? Now I'm sure you're saying, "See what coming?" How about everything? Real Heroes #1 is filled with so many twists and turns at times it was hard to keep up. Ultimately though, it has a great cliff hanger ending that makes you wish Issue #2 was out already. I don't want to give away too much of the story line, or you will miss out on all the fun of being caught off guard. But I definitely want to talk about the importance of what this comic entails – and that would be none other than the title of this comic.
The comic starts with a young boy, Chris Reynolds, watching a live news report of September 11th, with his mother in the background trying to get information on his father's fire fighting unit that was called in for search and rescue. As the panels unfold, it is quickly learned that Chris's father was in the South Tower when it collapsed. Now skip to an adult Chris in a brightly clad superhero costume speaking ridiculous 50's comic book language (yes, reader, I was cringing).  After a few pages of Chris and his team fighting and saying one-liners, it is revealed that Chris is not a superhero, but an actor. That's right, your action scene is none other than the premier of the movie. Now the majority of the comic is learning about the actors and their lives, and there is a very good reason for this. These actors are hugely famous. Their movie, Olympians 2: Devastation, is up for being one of the highest grossing movies ever. Everyone looks up to them. Everyone idolizes them. Everyone treats them like they're heroes. There is just one problem – they are not heroes.
Reader, I'm going to take a guess and say you are thinking what I'm thinking…that Real Heroes is a great mirror image of our world. Seriously, I know more about what star is sleeping around than I know how many soldiers died today fighting in a war we always forget we are in. And how about the fact that we call actors stars, that right there should really say it all. And the characters in Real Heroes are no different. Throughout the comic there is a news reporter covering the movie premier and talking about all the good the actors do e.g. charities they fund, talking about positive body image, and even letting people know how they are just like the average person and how they relate. Of course, it's all for show. Behind the scenes we get to see that they think its all a big joke, even talking to themselves about how bad the movie is and that their fans are idiots for believing it.  Well, everyone but Chris that is. Chris is serious and constantly reminds people that they, the actors, are no heroes – that people like his dad are. Chris reminds us that real heroes are people who sacrifice themselves for the better good, and as we see in this comic, the movie stars are anything but. They party, do drugs, comment about how good they look, and most importantly, show just how selfish they are.
Like I said, I'm not going to even come close to telling you the ending.  But, the ending is important. You see, reader, after spending the comic seeing how vastly different our actors are from the heroes they play on screen, they are about to be given the opportunity to become them – to be real heroes (though exactly how you will never see coming). Of course, this leaves me wondering, do our characters have what it takes to give up their selfish lives and make a difference? And more importantly, will they even want to?
To Purchase "Real Heroes" #1 From Amazon.com Please Click Here.
___________________________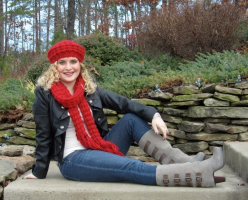 Ali is a creative writer with an emphasis on Sci-Fi/Fantasy and Comic Books. She first fell in love with superheroes when they were used to teach her to read. When not practicing at her dojo or out seeing the latest superhero movie with her friends, Ali can be found curled up on the couch with her dog and a good book.