(Marvel Comics, 2015)
Written by Jason Latour
Pencils and Inks by Robbi Rodriguez
Colors by Rico Renzi
Although this is the actual inaugural issue of Spider-Gwen's on-going monthly series it reads more like a second issue to her first appearance in last year's Edge of Spider-Verse #2. An ancillary series of one-shots each focusing on a different Spider-Powered character, the second issue of Edge of Spider-Verse written by Jason Latour with art by Robbi Rodriguez boasted the introduction not only of Spider-Gwen but, of the alternate universe that spawned her and the entire cast of quasi-familiar characters albeit some of them are only recognizable by name. It is in that issue that much of the set up for this story and the series as a whole is done, chiefly Gwen's origin. This approach allows Latour and Rodriguez to hit the ground running; rather than spend page after page reiterating any of that material the creative team use that as a launch pad to blast off into the further adventures of this hip, edgy new Spider-Heroine.
Spider-Gwen seemed to hit the scene with a rather rabid fan base already in place and clamoring for more; droves of cosplayers, tons of fan art and a veritable explosion of on-line chatter heralded the arrival of the next, and perhaps best loved in a line of Spider-Women that includes; Cindy Moon aka Silk and Jessica Drew the Avenger who is actually known as Spider-Woman. Gwen has a certain unique personality that resonates more with the youth of today than these others, perhaps because of her raucous, rebellious demeanor which includes a stint as drummer for New York's own all girl hipster band, The Mary Janes, named for their flamboyant lead singer or maybe it's just the genuine voice that Latour has been able to capture for her. Sure Gwen has her own foibles and shortcomings but rather than let them define her she overcomes them and is endearing in spite of them not so much because of them, as is the case with many teen characters. There is a tendency to overdo it on the angst and skimp on the character that is the resulting product of perseverance in the face of adversity; Gwen has this in spades without coming across as "sassy" or annoying. She is a strong, young, female character whose strength comes from her feelings of remoteness and separation as well as her complicated connection with her father, just as much as the radioactive spider that bit her. Much more so than Cindy Moon, who is heavily influenced by her closeness to Peter Parker, Spider-Gwen is her own person with a very unique and somewhat contradictory connection to Peter Parker.
There are just enough of the tried and true Spider-tropes here to keep any fan of the traditional Spider books coming back for more, however Spider-Gwen is not your parents Spider book. Certainly there is plenty of humor, witty dialogue and web-slinging action scenes however there is a freshness and an edge that Latour brings to this characters that separates her from the rest of the Spider-Verse.
Visually, artist Rodriguez, along with colorist Rico Renzi provide Spider Gwen with a dynamic, vivacious and vibrant look that is all its own. From the uber-hip costume design to the ultra-stylized character designs the imagery is alive and full of energy. There is a cutting edge sensibility to this book from the first panel to the last; the kinetic pace of the narrative is mirrored in Rodriguez's images. Renzi uses extremely punched up colors without over-saturating and obliterating any of the subtle nuances of a given scene or sequence. In fact the intense color choices only serve to enhance the energy in Rodriguez's page compositions. This is a visually stunning book with enough mind-melting, eye-popping artwork to satisfy even the most discerning connoisseur of creative comic book chaos.
This is a spot on, perfect follow up to the saga of Spider-Gwen started in Edge of Spider-Verse #2. It picks up the narrative without missing a single beat and immediately takes off from there. Jason Latour not only crafts a compelling story that is unique in setting, tone and conflict but continues to develop Gwen as a singular character in her own universe. The whole thing is brought intensely to life through the senses shattering combination of Robbi Rodriguez's fresh, imaginative and inventive images with Rico Renzi's electrified, psychedelic color palette. With the tremendous outpouring of fan support for this character it's a sure bet that we will be seeing Gwen for a long time to come, however where exactly she is going to fit into things in a post-Secret Wars Marvel Universe is anybody's guess, but you can believe it's going to be an incredibly fun ride getting there True Believers. (4/5)
---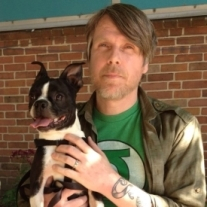 Shawn is an aspiring writer/ artist who has been reading, collecting and living comic books for over 30 years. He lives in Baltimore with his wife, their son, lots of cats, dogs and other various finned and furry friends.