(Dynamite Entertainment, 2014)
Written by Quentin Tarantino and Matt Wagner
Illustrated by Esteve Polls
Colored by Brennan Wagner
Lettered by Simon Bowland
Over the past several years Dynamite Entertainment has not only made a name for itself with licensed properties, but with the revitalization of those properties into successful comic series.
One only need peruse their catalogue for a moment to see titles that our parents may recognize (or our grandparents for that matter) like Flash Gordon and The Green Hornet, as well as newer properties that embrace more recent entertainment mores like Game of Thrones and Army of Darkness.  They've had a lot of success with the revamped editions of The Twilight Zone and Red Sonja, and sometimes, like in this book, they are given leave to cross characters into a mash-up book.
Django / Zorro #1 is one of those moments.
For the three people unfamiliar with these characters, Zorro is a masked man who wields a sword and secret identity much like the Lone Ranger, and Django is indeed the character created by Quentin Tarantino for his 2012 film Django Unchained, in which a freed slave becomes a bounty hunter.  These two characters, while both set in roughly the same time period, would never cross but for the will of writers Tarantino and Matt Wagner.  (Mage, Grendel)
In this story Django is roaming the Arizonian desert when a gilded carriage owned by Don Diego De La Vega overtakes him.  (Zorro for those who aren't keeping up.)  They find kindred spirits in each other; both sensing that there is more than meets the eye to each other.  Django has a history with older foreigners, and he is comfortable with De La Vega's quiet opulence.  The story quickly devolves into violence of a purely western kind, just what we should expect from a book centering on a Tarantino character.
Esteve Polls has a long history with western comics, having worked on The Good, The Bad, and The Ugly, as well as The Lone Ranger and Zorro books for Dynamite already.  His style is familiar within this genre, and he captures the likeness of Django (played by Jamie Foxx in the film) without a complete copy of the character.  This is a Django that is perhaps a few years older.  He has a more haunted look about him.  Polls' De La Vega is older, a distinguished gentlemen who nonetheless has the ability and the will to cut down any who seek to oppose what is just.
Let's face it.  We all love a buddy/cop story, and that's what this is at the heart of it, but even paring it down to it's bare essentials doesn't make me enjoy this any less.  Dynamite has enabled us to see what would happen if two of our favorite heroes teamed up, and team-ups are where it's at in the comic world.  Would Luke Cage be the same without Iron Fist?  No.  This is the kind of pairing that seems to come from two guys, sitting together over a beer or a cup of coffee and saying "wouldn't it be cool if…?"
We need more comics like these, because when people get together and brainstorm good ideas we get Django / Zorro #1, and with proven talents Tarantino and Wagner at the helm, we can be sure that it will provide exactly what we would expect.  Spaghetti western with sword fights.  'Nuff said.
---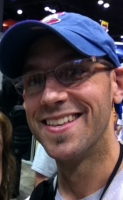 Brad Gischia is a writer and artist living in the frozen Upper Peninsula of Michigan. He is married and has three kids and a dog, who all put up with his incessant prattling about comic books.