(BOOM! Studios, 2014)
Story – John Carpenter and Eric Powell
Writer – Eric Powell
Artist – Brian Churilla
Colorist – Michael Garland
Letterer – Ed Dukeshire
It's 1986 again, and Jack Burton has returned to rescue my summer.   Again.  Today marks the release of the long awaited and much-lauded Big Trouble in Little China from Boom! Studios.
John Carpenter directed the original, and forever brought terms like, "The Porkchop Express" and "I was born ready…" to a new generation.  It was one of the first movies I ever saw that didn't take itself too seriously and because of that it remains one of my favorites.  Kim Cattrall plays the sexy damsel in distress to Kurt Russell's smart-alec Jack, and the cast is filled with more popular Asian-American actors than you can shake a stick at.  Dennis Dun (Wang Chi), James Hong (Lo Pan), and Victor Wong (Egg) are spattered throughout popular 80's films.
Big Trouble is a "man in the wrong place at the right time" story, one that could only take place if Burton, for all his bravado and brash nature, is truly a good and moral character.
And now finally, nearly thirty (I know it's twenty-eight, but artistic license says it's more impressive to say "nearly thirty") years later, John Carpenter has returned with another Jack Burton story.  Who could he possibly turn to?  Who could help him man this crazily titling ship?  Perhaps you could pick a creator with a pedigree, an all around good guy in the comics biz.  Eric Powell takes the wheel and steers it true.
Powell has long been lauded as the award-winning creator and artist of The Goon, and this world is right in his wheelhouse.  Indeed, Big Trouble is a very Goonish sort of world, filled with magic and unexplained phenomena, and a main character that can either curl up into the fetal position on the floor or accept it.  Had Carpenter not pushed Burton into the world three decades ago, it seems plausible that Eric Powell could have created such a man.
If you expect this to be a continuation of the film, you'd be exactly right.  Just like DC did with Batman '66, the people at Boom! have made it possible to use the likenesses of all of the people from the film that they need to.  Jack Burton looks like Jack Burton, and for this story, as a continuation, it's really important to recapture that feel.
The events in this book take place shortly after the film ends and finds Jack racing cross country, away from Little China.  Then something happens that makes him return.  And that's all I'm giving you because if you're a fan then you've already bought it or you don't want the spoiler.  But believe me it's good.
Brian Churilla (We Kill Monsters, The Anchor) draws up a storm, bringing 1986 back in comic glory.  And really, what was Big Trouble in the first place but a comic book movie done backwards?  There are few other films that would translate as well between mediums.  Churilla has fun with the content.  Who wouldn't want to draw Kurt Russell in one of his most iconic characters?  The likenesses are a major component in making this comic work, and Churilla has nailed them.  Had I not known the story beforehand, I could still have picked Victor Wong's character out and said "Hey, that looks like the "I want the knife…please" guy from The Golden Child.
If you were ever a fan of the film, then Big Trouble in Little China #1 pays you back for your years of service.  If you've never seen the film, the first issue alone is enough to make you search through whichever movie service you choose for the title, and then you'll see a comic book film done right.  John Carpenter and Eric Powell have brought back 1986, and only Big Trouble can come from it.  How great is that?
___________________________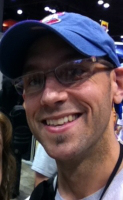 Brad Gischia is a writer and artist living in the frozen Upper Peninsula of Michigan. He is married and has three kids and a dog, who all put up with his incessant prattling about comic books.