(SourcePoint Press - 2016)
Created by Adam Green
Concept by Gary and Josh Sobek
Written by Greg Wright
Edited by Travis Mcintire
Pencils and Inks by Stephen Sharar
Colors, letters, and Design by Joshua Werner
During the turbulent 2000's of the entertainment industry, when networks were born, sold, dissolved, renamed, rebranded, and sold again, a young writer was swimming against the current, tying to makes his bones in the business.  This writer was Adam Green, and with partner Joe Lynch, they created a show called Holliston, which ran for two seasons in 2012 and 2013, before the death of Dave Brockie (Oderus Urungus of GWAR), a divorce, and the merger of Time Warner and Comcast again dissolves a network.  Holliston went off the air.  It stayed in the shadows while Green rebuilt his life, all the while writing movies.  In 2016, Green paired with SourcePoint Press and resurrected the title, this time in comic book form.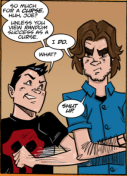 To summarize, Holliston: Friendship is Tragic is a continuation of the storyline from the show.  To whit, a couple of college pals who want to make horror movies and their quest to do so.  In the FiT storyline, it's Halloween, and the two want to celebrate like it's Christmas, though they lack the funds to do so.  Adam finds a pre-paid credit card on the street and uses it to buy gifts (cursed) for his friends, who gain wealth and fame (curse again) to surprising and soon-to-be-disastrous results (you guessed it…curse.) 
I went into this blind.  I had never seen Holliston when it was on the air, and hadn't heard of it until I saw the SourcePoint book.  That being said, it feels right.  Greg Wright captures the episodic feel of a television show, with a one-and-done kind of tale that you can pick up and read in a sitting without previous knowledge of the show.  The story is funny and chock full of horror movie references.  Even without having seen the show, the tone feels right.  Plus, Dee Snider makes an appearance, no spoilers.  (Yes. that Dee Snider.)
Stephen Sharar's pencils and inks, paired with the colors and letters by Joshua Werner, help to keep the light tone, and prove that the pair, together and on their own, are top notch talents.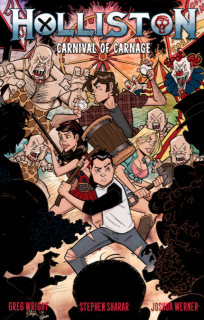 And, because timing is everything, SourcePoint Press just dropped a press release this week about the next issue of Holliston titled, Carnival of Carnage, which has been green-lit and will come out in 2017 featuring the same creative team.  It's a book I'll look forward to.
For Holliston fans new and old, Friendship is Tragic is a graphic novel that will make you laugh and fill your heads with remembrances of every horror film you've ever seen and a bunch you haven't.  The SourcePoint Press team has knocked another one out of the park with this graphic novel.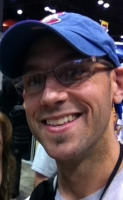 Brad Gischia is a writer and artist living in the frozen Upper Peninsula of Michigan.  He is married and has three kids and a dog, all who put up with his incessant prattling about comic books.
Twitter - @comicwasteland