(Image 2015)
Written by Jason Aaron
Art by r.m. Guera
Letters and Design by Jared K. Fletcher
I grew up in the Catholic church, so the story of Cain and Abel was told to me when I was young. Disturbing for certain, brutal in a way only a bible story can be, the tale of brother murdering brother is one that would be repeated throughout literature as the centuries progressed.
As it turns out, that kind of story is perfect for a comic book, and now it is with Images' latest book from Jason Aaron called The Goddamned.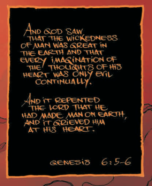 Aaron wowed us last year with his Southern Bastards, and kicks it old school with a tale of biblical proportions in The Goddamned. It follows Cain, twelve hundred years after he killed his brother, he's been cursed to wander as an immortal, forever looking for a death that God has taken and held for centuries. He wanders, looking for the one thing that can end his life, hoping against all available evidence that something can kill him.
This is a realistic look at the biblical "reality" of a world a thousand years after the fall from grace. It's a brutal and bloody world, where people have less respect for life than they do for clean water, less care for the needs of their fellow man than for whatever they can grab for themselves. It's a world ripe for a scrubbing. And Cain wanders it, killing when he must, defending himself as best he can, which appears to be pretty well.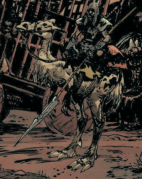 I'm all for a "different perspective" story. This is just that. Often we skip over this part when hearing the bible stories. "Adam and Eve were kicked out…Cain slew Abel…God sent the flood." (My scholarship is poor, I know there are other stories there. But for the sake of argument…) So here we have a look at how bad the world really is. The land is blasted, wasted away, so far gone from the paradise that was Eden. Cain remembers Eden, so the wasteland for him must be that much more depressing and bleak. I'll be interested to see where Cain wanders as the story progresses, and how Aaron brings in other popular biblical characters.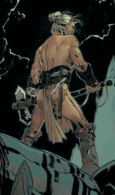 r.m. Guera' s (Scalped) art is beautiful and savage. He captures the dilapidated feel of the world as it exists in this time, and doesn't shy away from the blood and guts. The detailed gore and violence really grounds the story in a place where there is no God even for the one guy who knows he exists. Guera brings a real Conan feel to the book, and that not only grounds it in something we are familiar with but also separates it from the source material. His shadow work is fantastic, and the color choices also lend to that sick feeling that has enveloped the world.
Jason Aaron looks to be on another fantastic run with a comic, and The Goddamned seems as if it has great promise. (The source material seems like it's still going strong…) The Goddamned is Conan with a Christian/Historical bent, and completely enjoyable.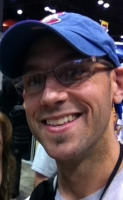 Brad Gischia is a writer and artist living in the frozen Upper Peninsula of Michigan. He is married and has three kids and a dog, all who put up with his incessant prattling about comic books. Twitter - [email protected] https://wordbloonillustration.wordpress.com/Review