(IDW 2015)
Writer: Joe Harris
Art: Matthew Dow Smith
Colors: Jordie Bellaire
Letters: Chris Mowry
The truth is out there, in The X-Files Season 11 #4, as IDW's X-Files comic book series finds Mulder a fugitive, and his work discredited, while Scully continues at the FBI in her attempts to stop the government being influenced by their former ally - the uncannily powerful Gibson Praise - and clear Fox Mulder's name. After the latest leg of Mulder's journey across America brought him to a farm in Garden County, Nebraska, which also turned out to be the new home of the notorious Peacock family, Scully must now follow up a new lead, but will it bring her to Mulder in time, or is this another of Gibson Praise's mind-games? Mulder must deal with what happened on the Peacock farm; as he is left wondering if he will ever be able to go home again.
The X-Files Season 11 #4 is a gloriously dark and foreboding issue, writer Joe Harris skillfully begins to draws the threads of this storyline together, as the odyssey Gibson Praise sent Mulder on leads to a shocking outcome for everyone involved. Home Again Part 3 engineers a momentous reunion for Mulder and Scully, just as the involvement of the FBI and Assistant Director Anna Morales also becomes inexorably entwined with events in Nebraska. Even though Mulder has the fragment from the military satellite, its clear Gibson's plan is bigger than Guantanamo Bay and the X-Files put together, but they mystery of what he's using it to communicate with remains a mystery. The scenes between Mulder and Scully are fraught with tension and emotion, Joe Harris has a perfect handle on these characters, and you will become completely engrossed in the unfolding drama of the impossible situation they find themselves confronted with.

Having originally appeared in the fourth season episode "Home" (1996) of The X-Files TV series, which despite its controversial themes and extreme violence is often regarded as one of the finest episodes of the X-Files, the Peacock family and their reclusive way of life certainly presented a challenging case for Mulder and Scully. The X-Files Season 11 #4 is a clear homage to this classic X-Files episode, featuring flashbacks to what that transpired after the events in Pennsylvania that brought the Peacock's to the farm in Garden County, but as the FBI close in, Mar Peacock's recollections provide a chilling insight into their existence, scraping by in the shadows, as they struggle to protect all they hold dear in their own inimitable fashion.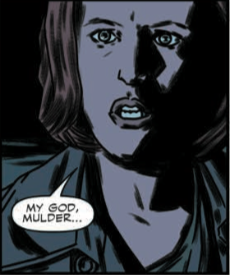 Matthew Dow Smith's artwork stunningly encapsulates the essence of the X-Files TV series. With such clear links to the episode "Home", this issue, and its hauntingly rendered flashbacks, recalls some disturbing elements from that same episode. Matthew Dow Smith stylishly brings the core themes of Joe Harris' story to life as the fate of the Peacock matriarch and her family spirals into a last ditch struggle for survival in the present. Brilliantly intercut with the scenes featuring Mulder and Scully the sense of impending doom is both unflinching and utterly compelling. The finer nuances of Mathew Dow Smith's artwork are accented further by Jordie Bellaire's wonderful use of color, tone, and shade to reflect each and every emotional beat of the story impeccably. This issue builds towards a startling conclusion, one where it seem neither Mulder or the Peacock's have anywhere left to run anymore, while Gibson Praise's influence remains elusive as far as the crow flies, but ever watchful.
The X-Files Season 11 is a bold, exciting, and riveting new era for the series. Home Again Part 3 is a superbly written issue from Joe Harris, it's a dark and sombre tale which holds unexpected ramifications for the current story arc, and the brilliant art by Matthew Dow Smith makes this IDW series just as compelling, unsettling and mysterious as the X-Files TV series itself. The X-Files Season 11 #4 is another thought provoking and exciting new issue from this IDW series, without doubt, this the X-Files at its very best!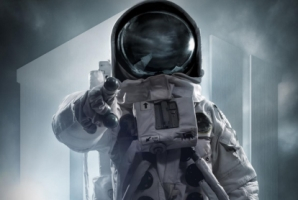 Paul Bowler is a self-Confessed Sci-Fi Geek, Doctor Who fan, and Zombie Disposal Expert. He likes movies, comic books, and all things PS3. He likes to write about his interests, would love to write a novel one day, and also enjoys chatting to the many people he has gotten to know on Twitter. When he's not busy being an Impossible Astronaut, he likes to take a break from his adventures in time and space to enjoy some of his favorite tv shows and movies, preferably with a nice cuppa tea & a sandwich! You can follow him on Twitter @paul_bowler, or find him at his website, Sci-Fi Jubilee.