(Boom! Studios 2015)
Written by Grant Morrison
Illustrated by Dan Mora
Letters by Ed Dukeshire
Cover by Dan Mora
If you're reading this on November 4, 2015, there will be 50 days left until Christmas. (My stomach just did a flip flop…ugh…the shopping.) I feel as I get older that I'm constantly begrudging the earlier and earlier holiday jump start, in fact, yesterday I heard carols on the radio…a full 52 days before Christmas. And they weren't playing anything else. Just Christmas carols. The worst thing is that I know that it will fly by, and the exquisite, drawn out wait that I remember from my childhood will be rushed into about thirty-five seconds of egg-noggian blur.
What better way to salve the wound of crushed expectations than a reboot of the most classic of Christmas tales by one of the best writers in the comic biz?

Grant Morrison launches Klaus #1 this week from Boom! Studios. Billed on the first page as "the greatest untold story of them all" we launch immediately into the tale of a wandering forest dweller named Klaus, a hunter who travels with a gigantic white wolf. He comes to the town of Grimskvig, which is under the despotic leadership of Lord Magnus. Klaus finds Grimskvig to be substantially less hospitable than he remembers. He's summarily beaten and driven from town, then chased by the guards, because he smacked a guard who beat a child. (Said child was playing with a rock.) Klaus takes out his assailants and leaves.
Then Morrison gets very "Morrison-y" with the story.
There is the introduction of "the shining family" and we see the very opposite in the family of Lord Magnus, whose son Jonas is the apple of his horrible eye. Without too many spoilers, you feel the thread of the story by the end of the issue, though there are some vital changes that make it unique.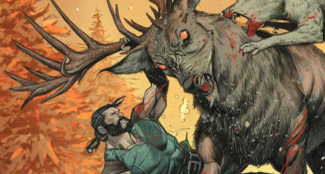 Dan Mora's (Hexed) art has a realistic style that also marks this book as different for me. Most of my experience with reboots of the Santa Claus story come directly from Rankin and Bass, with The Legend of Santa Claus and Santa Claus is Coming to Town as cherished reminders. Especially Legend, which introduced all kinds of strange monsters and fairies and had an epic battle near the end. This comic feels more mature, and in that way, a more adult reboot of the franchise partly because of the art. Mora's Klaus is more of a Fabio than bowl full of jelly, and those designs work in the context of the story.
For all of the Christmas reboots, the constantly rotating Santa Claus stories are probably the most numerous and therefore have the most stinkers. In Klaus you get smart writing by Grant Morrison and beautiful artwork by Dan Mora. Klaus #1 is out this week, this eighth week before Christmas. Get in the holiday spirit!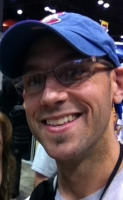 Brad Gischia is a writer and artist living in the frozen Upper Peninsula of Michigan. He is married and has three kids and a dog, all who put up with his incessant prattling about comic books. Twitter - [email protected] https://wordbloonillustration.wordpress.com/