(Image Comics 2015)
Writer - Sam Humphries
Artist - Tommy Patterson
Colorist - Jon Alderink
Letterer - Rachel Deering
As I age, politics has become both more and less important to me. More important to the end that I am worried about the state of the country and the world. Less important that I am beginning to lapse into a state where I fail to believe that anyone can make a difference. But comics my friends! There are always comics.
And to that most important end we go, into the world of four-color politics. Citizen Jack #1, out this week from Image Comics and the team of Sam Humphries and Tommy Patterson, brings a race that is only slightly less believable than watching a debate in the current political climate. (I may stand corrected in the future.)

Jack Northworthy of Musk, Minnesota is many things. Aged junior hockey star. Divorcee. Passionate gun owner and liquor imbiber. Failed mayor. Failing business owner. The other residents of Musk tolerate him, see him as a sort of bumbling drunk, the guy that you don't want to piss off when it's past four in the afternoon. Jack stumbles around town in a pink bathrobe with a pistol in the waistband. He longs for the past, when he was a hockey star and seemingly on top of the world, or when he was mayor of Musk and ran it as crooked as that fabled old man in his crooked house. But past is past, and Jack is currently looking down the barrel of a future in which he no longer has his snowblower sales business.
At some point he came into the sphere of a demon named Marlinspike who now lives in the back of the store, or perhaps his head, one cannot quite be sure. Marlinspike has promised Jack the presidency. It would solve all of his problems. His father would be proud of him and all of the people who know him will see that he isn't just a drunk nobody. So begins the campaign.
Sam Humphries (Uncanny X-Force, Fanboys vs. Zombies) has scored with this new take on politics. He's actually created a demon behind the political race, one with dripping fangs and the darkest of motives. (If only politics were as simple to fix as an exorcism.) Jack is kind of curmudgeonly lovable. You see how his life may have been different but for a few small changes. Even as he's signing the papers, his deal with Marlinspike, you know that it will be a train wreck.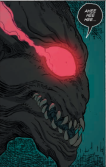 I like Tommy Patterson's (George R.R. Martin's Game of Thrones, Farscape) art in this book. It's very detailed and reminds me a little of Geoff Darrow's work on Shaolin Monk. We'll see what happens when blood and bits of people start to fly around. (There's a demon in this race, someone is bound to get chewed on.) Colors by Jon Alderink are great, and there are a few pages were he really gets to play with the palette.
Sam Humphries has declared himself for Citizen Jack #1. Tommy Patterson has seconded. The campaign has begun, and it will not end without bits and pieces of people everywhere.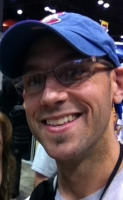 Brad Gischia is a writer and artist living in the frozen Upper Peninsula of Michigan. He is married and has three kids and a dog, all who put up with his incessant prattling about comic books. Twitter - [email protected] https://wordbloonillustration.wordpress.com/