(Kodansha 2009)
Story & Art by Hajime Isayama
Storyline Ongoing
Summary: In an alternate telling of the history of the world, mankind has been pushed back behind walls where for the last 100 years they've been protected from monsters known as Titans. One day these Titans appeared again and brought one of those walls crashing down – the result almost sent humanity into extinction. This is the story of the last remnants of mankind.
[SPOILER WARNING!!]
As the latest storyline rages on, an epic battle finally begins between the mighty Scouting Legion and the Titans! We're one step closer to Isayama finally revealing the secret of the Titans as Reiner, Bertolt and the half-mysterious Beast Titan lead a revolt against the Scouts.
Given recent events and a laundry list of incredibly lackluster reveals Isayama was really going to have to start amping up the action or something in order to get me excited for this manga again.
This is a step in the right direction.
As long as Isayama can stay away from politics in this story and just keep the Titan bashing then all will be right in the world. That's really, really sad for me to say but it's honestly the Titans themselves that make this series interesting. I gotta admit I was truly bored through all the stuff with the Scouts retaking their civilization from the now previous King.
But that's all in the past now as Eren makes a pretty successful attempt at finally closing the hole in the wall the Colossal Titan made in the wall 3 years ago. However the Scouts are playing right into the Titan's hands as Eren uses up all his energy so that the Titan's can find a window in which to launch their attack.
This is also a really good issue for Armin as we get to see just how much he's changed in this past year 3 months since he had his first big Titan fight. The man gets to take lead for a good portion of the chapter and it's really nice seeing Erwin groom this kid into being a leader. Armin is smart, and what he lacks in brawn he makes up for in brains. And could you imagine, Armin being the next Erwin of the Scouting Legion, Mikasa being the next Levi, and Eren being the next Hanji who knows the most about the Titans? I like this idea.
There's also a couple of really interesting scenes in the chapter when Levi takes a really good portion of Reiner's neck out while he is in human form and not only does it not effect Reiner but he soon goes into Armored Titan mode like nothing happened. It's rather interesting, and I'm curious to see what's causing this rapid human healing effect.
The other is when the Beast Titan shows up out of a puff of smoke. With him comes a whole hoard of Titans out of the smoke and what it looks like is that a bunch of humans just turned themselves into Titans to go to war. But with these regular Titans will they be able to turn back into humans at will like Eren has learned too? And how Reiner and Bertolt can as well?
The stakes are looking pretty high and survival is looking pretty low for the Scouts. I'm really curious to see how this battle continues, I expect a lot of carnage and also the death of a major character. Probably Erwin given his handicap. We'll just have to wait and see.
Final Score: 3 Deviant-type Titans out of 5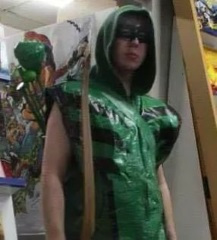 Derrick is a born and raised otaku with a love for comics, anime, manga and movies. The full list is pretty long, but that's just the basics. Stories set in space are his bread and butter. You can find more of his writing at IndieComix.net @KazekunForever