(Coker CoOp Books, 2014)
Written by Shobo Coker
Art by Shofela Coker
The abundance of crowd-funded comic books on the market today makes it nearly impossible to keep up.  It's a constant complaint for me, not just with the indie market but with the standard market as well.  There are a lot of comic book to read, and you can't always be on the front lines to see this stuff at its' beginning.
Fortunately I get review copies of Indies sometimes, and in this case, we all have a chance to be there close to the beginning.  Take note, because Outcasts of Jupiter is so well done that it seems certain to be picked up by a publisher.
First of all, look at the creative team.  Two people.  Brothers in fact, working together, adding their own fantastic talents to make a comic that is different from so much on the market today that one has to take notice.  The fact that there are just the two of them, and that the production level is so great, makes it almost unbelievable.
Outcasts of Jupiter takes place in Morocco in 3125, and instead of the usual post-apocalyptic world, instead of a vision of humanity crumbling into itself, we're given a relatively good forecast.  The world is actually doing pretty, well, although the Caliphate at the center of the story is without it's leader, and despite great feats of leadership from Abdullah, captain of the Caliph's elite guard, the City of Seven Faces still has no leader.  Enter the Outcasts, a group of mercenaries with a precise and refined set of skills, ready to do exactly what needs to be done, find the heir.  Think the A-Team meets Firefly.  That's the sort of vibe I'm getting off of this.
Shobo Coker, the writing half of the team, has crafted a great sci-fi story.  He doesn't rely too heavily on the descriptions of technology, which always seems to bog down a story, but rather focuses on the individual stories of the people.  We aren't even introduced to the entire team in the first story (though you can read about them in the appendices in the back) and there are characteristics about them that we can tell are absolute.  Sulesh is a leader, Denarii, whatever his specialty, is the best at it, Abdullah is loyal almost to a fault…these are things that we learn about the characters because of their actions, all provided by Coker's story.
Shofela Coker style from the first reminded me of a cross between Riley Rossmo's work in Curse and Chris Vision's work on Dead Letters.  It's a great style, some of which is based on slightly exaggerated features and great use of perspective.  But Mr. Coker, Shofela that is, has an edge here, because he does all of the artwork.  All of it.  So pencils, inks, colors…and because of that each piece looks like the same person did it, with his particular vision in mind.  If you haven't seen his work before, you will soon.
Outcasts of Jupiter #1 is a great introductory book.  I missed the Kickstarter, but they've been making the con circuit, and are working on issue 2 now.  Keep your eyes out, because I can't imagine that talents like those of Shobo and Shofela Coker will stay on the indie market for long.
---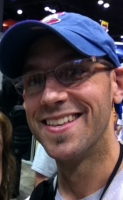 Brad Gischia is a writer and artist living in the frozen Upper Peninsula of Michigan. He is married and has three kids and a dog, who all put up with his incessant prattling about comic books.