(King Bone Press, 2012-2014)
Written by: Various
Artwork by: Various
Through the marvels of the Internet I was introduced to podcasts, and through the marvel of podcasts I was introduced to Double Page Spread, and through that a small company out of Chicago called King Bone Press.
Headed by Jon Westoff and a close-knit group of independent creators, King Bone is a model indie publisher.  (And to prove how indie they are, Westoff is not only the "editor of anthologies, head of the bullpen and king of the shipping department", but he also pens three of their books.)  King Bone brings books to print and to the web through comixology, and are huge supports of local talent.  They have a pile of books on their site, kingbonepress.com, all small and unique.
Bandthology #1 was the first of their anthology books and was popular enough to spawn two additional volumes.  It is different because it's a book about musicians by musicians.  It's true that creative people are often not merely creative in one medium, and comic books are no different.  People who have been, or currently play in bands pen all these stories.  Some of them are full-time artists and writers, others fall more onto the music side, but their passion for both is evident in the content.
Dan Dougherty (Beardo, Moon Lake) pens tales for all three of these volumes, and his style and talent cannot be overstated.  He takes a Will Eisner approach to comics; making you feel the pain of characters, see their frustration on the page, while keeping the design of the characters fairly light.  For instance, as per his style, his figures' eyes are just white circles, no pupils rolling around inside, no veins bursting from too much bass.  But the lack of emotiveness that you can have with white eyes is made up for in posture, backgrounds, and connections with other characters in the book.  I found myself turning to his stories first and going back to finish the rest of the book later.
Stories in the anthology give you a behind the scenes look at life in bands, from sleeping in parking lots to playing massive gigs in front of huge, sometimes galactically so, audiences.  Aaron Pittman pens a story (and draws) in the second volume called "Band of Brothers" that neatly intermarries the bonds that a band forms as they grow together, both in age and musically.  He uses setting as the anchor for the story, which is interesting because bands are so constantly on the move that sometimes the only anchor they have is each other.
Other stories, such as the Jack and the Jammers stories penned by Wendi Freeman (also a drummer), are fun shorts about an intergalactic band, trying to make the big time and finding it rather more difficult than they'd expected.
To finish out the set, you should be checking out, not only the Bandthology books, but also everything that King Bone Press is putting out.  They are managing to wrap up some fine talent in the Chicago area, and by keeping it local, they're able to put their own unique brand of books out, which is part of the beauty of indie publishers.
___________________________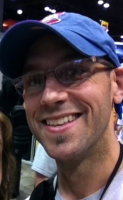 Brad Gischia is a writer and artist living in the frozen Upper Peninsula of Michigan. He is married and has three kids and a dog, who all put up with his incessant prattling about comic books.