(IDW Publishing - 2016)
Writer: Mike Johnson
Artist: Tony Shasteen
Colors: David Mastrolonardo
Letters: Andworld Design
Regular Cover: George Caltsoundas
The 50th anniversary celebration of Star Trek continues with Star Trek Boldly Go #1, the brand new ongoing series from IDW Publishing by Mike Johnson, Tony Shasteen, and David Mastrolonardo. Captain Kirk and his iconic crew's adventures boldly go beyond the final frontier to embrace a new era of Star Trek, with strange new worlds, new civilizations, and a threat unlike anything the Federation has ever seen before.
Following on from the blockbusting movie Star Trek Beyond, the first issue of IDW's all-new comic book series Star Trek Boldly Go certainly rings in the changes. The crew of the USS Enterprise been reassigned, leaving to join new ships, even taking on new roles, some have chosen to take some time away from Starfleet, while others seize new opportunities, and the galaxy enjoys a respite from conflict. Naturally enough it's a peace that will prove short lived.
Star Trek Boldly Go #1 instigates a surprising new direction for the series and the crew of the Enterprise, writer Mike Johnson quickly establishes the new status quo, and it's not long before we find several familiar faces in new roles. This series beautifully embodies the essence of Star Trek as we catch up with Kirk, now interim Captain of the USS Endeavour, McCoy and Chekov, on survey mission in the preciously unexplored Pellion System. Meanwhile, Spock and Uhura are enjoying some time together on New Vulcan, Scotty is teaching at Starfleet Academy, and Sulu is adapting to life as the new second-in-command on the USS Concord which is also incidentally captained by a new, yet very familiarly named character.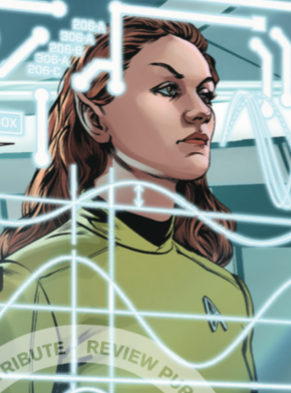 This issue is packed with wonderful scene setting moments. McCoy gets short-shrift from a superior officer who makes Spock seem positively charming by comparison; and Kirk has a female Romulan first officer to contend with. Spock's relationship with his father seems less fraught now as, and Nyota has enjoyed immersing herself in the Vulcan's culture and customs during their sabbatical. Sulu is also making a good impression on the USS Concord, but when danger strikes, it sets in motion a chain of events that is sure to bring the former shipmates of the Enterprise together again. Mike Johnson's pitch perfect storyline is engaging and gives all the major crew members a chance to shine in their new environments, the characterization is spot on, and the dialogue is often quirky and fun - Scotty's response to a know-all cadet is priceless!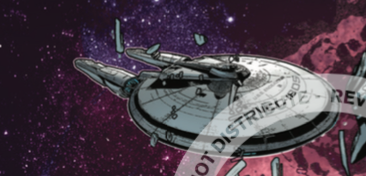 Tony Shasteen's artwork captures the essence of the new Star Trek movie franchise perfectly. The page layouts are bold, uncluttered, and finely detailed, the characters are also well realized, and the look and tone of Star Trek Beyond carries over nicely too - which also reinforces the comic series' new direction following the movie. I found the characters expressions to be especially strong and convincing. The star ships also look incredibly impressive, its nice to see other classes of ships like those of the USS Endeavour and the USS Concord in action, so often these other vessels are overshadowed by their more famous Constitution class counterparts, and its nice to see them get a moment in the spotlight. The colors by David Mastrolonardo are excellent, the vivid tones dominating the space scenes contrast nicely with the gleaming hues of the star ship interiors and technology, but it is the beautiful sunset we witness on New Vulcan that completely steals the show in this issue.
Star Trek Boldly Go #1 has all the hallmarks of being another strong addition to the Star Trek cannon. This issue builds towards its exciting closing moments after a distress call on the border of another quadrant leads Kirk to make a judgment call and race to the rescue, but what he finds shocks him to the core, and the hidden meaning inside an unknown transmission could well hold a portent of doom for them all… Mike Johnson, Tony Shasteen, and David Mastrolonardo have done a terrific job with this issue. Boasting a wealth of gorgeous covers to choose from Star Trek Boldly Go #1 really has something for everyone, both fans old and new, its bold, visually exciting, and this debut issues shock ending is sure to have you coming back at warp speed for more!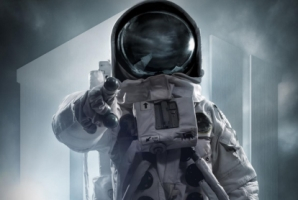 Paul Bowler is a self-Confessed Sci-Fi Geek, Doctor Who fan, and Zombie Disposal Expert. He likes movies, comic books, and all things PS3. He likes to write about his interests, would love to write a novel one day, and also enjoys chatting to the many people he has gotten to know on Twitter. When he's not busy being an Impossible Astronaut, he likes to take a break from his adventures in time and space to enjoy some of his favourite tv shows and movies, preferably with a nice cuppa tea & a sandwich! You can follow him on Twitter @paul_bowler, or find him at his website, Sci-Fi Jubilee.