(Self Released, 2015)
Written by John Dudley
Line Art/Washes by Don Cardenas
Colors by Kelly Fitzpatrick, Mark Dale, Drew Browne
Letters by Jon Westhoff
Every time I think I've seen the end of the world done in the last possible way, I see it again. There is a fascination that comes with the contemplation of the end and how we would react to it. I'm not an academic so there's nothing behind this but personal observation, but it seems like it has become a mania in our society to focus on the various and sundry ways that the apocalypse will finally happen. Will it be a plague of zombies? Our own carbon-injected atmosphere? Perhaps something subtler like a meteor speeding through space then deflected by a satellite to split the Earth in two?
Or perhaps it will be a plague of wolves?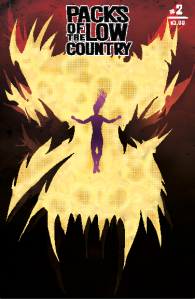 That's not specifically fair to Packs of the Low Country, but you get the idea. In this series, three issues at this point with the first available on Comixology, we've been introduced to the cast and are just starting to get an idea of the sh-t storm they've been dropped in. Or should I say was dropped on them?
This world is one where aliens flew down and effectively ended modern society. Creatures with Cthulu tendencies slithered their tentacles through our cities and invaded the tiny-brained creatures living on Earth. What we're left with is isolated pockets of freedom. Bastion is a veteran of the apocalypse and in the last sixteen years has grown to be a soldier in the last real army. This is his story, as he meets the natives and deals with his own inner struggles while trying to fend off packs of werewolves.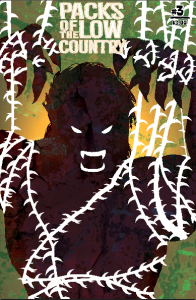 Writer John Dudley (Bandthology III) weaves a pretty intricate tale here, incorporating several larger comic themes into one complicated story. Is this a horror book? Science Fiction? Mutants? Post-apocalyptic? Yes. Dudley has done what all writers long to do, take all of the things they love and throw them in a story together. And the plus side of it all is that he's made it work, pushed all of those strange things together in a way that makes sense. I've read the three issues that are out now, and each is a piece in a larger puzzle that consists of two basic questions. What happened to Earth, and how can humanity (through Bastion's point of view) cope with it? With so many disparate parts it will be interesting to see how they all come together.
Don Cardenas (Bandthology II) does all of the line art and washes. There are a couple of collage pages in issue three that remind me of And Then Emily Was Gone artist Iain Laurie. They are fantastically horror images, psychological and scary at the same time and perfect for what they are illustrating.
If you're looking for a horror-sci-fi-mad-scientist-post-apocalyptic-werewolf story, than you can do no better than Packs of the Low Country. It is sure to be the only one in its class. (Plus there are a few categories I didn't include.) If you're looking for a good comic and great story, you're in luck, because John Dudley and Don Cardenas provide that as well.
*Packs of the Low Country issue 1 is available on Comixology, hard copies available at http://www.packsofthelowcountry.com/
---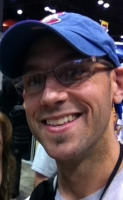 Brad Gischia is a writer and artist living in the frozen Upper Peninsula of Michigan. He is married and has three kids and a dog, who all put up with his incessant prattling about comic books.
Twitter - brad@comicwasteland