(Dynamite Entertainment, 2015)
Written by Troy Brownfield
Artwork by Kewber Baal
Colors by Kirsty Swan
Lettered by Marshall Dillon
Blending new themes with classic elements, Dynamite has taken one of their latest creations, The Blood Queen and put her in direct confrontation against the lord of vampires, Dracula!
In this new four-part miniseries, written by Troy Brownfield and illustrated by Kewber Baal, with colors by Kirsty Swan, and lettered by Marshall Dillon, the Prince of Darkness will confront the threat of the notorious Elizabeth Bathory.  Blood is sure to be spilled as these iconic characters clash, but will they become allies or sworn enemies?
Transylvania 1582 follows the Prince of Darkness as he returns victorious from the field of battle to castle Dracula, only to lean of a new threat posed by the Blood Queen from the kingdom of Varanno. Dracula's trusted aide, Marek, having placed a spy close to the Queen's husband, Ferenc, a Knight of the Old Order, has learned tales of the Blood Queen bathing in the blood of virgins. These dark supernatural mysteries stir Dracula's curiosity about the Queen's true ambitions and he decides to visit the Blood Queen for himself.
Writer Troy Brownfield certainly gets the first issue of this miniseries off to a fine start, the setting and characters are quickly established, before painting this world in blood, with lashing of mystery, and copious amounts of intrigue as Dracula resolves to discover the secrets of the Blood Queen. Brownfield has clearly seized the opportunity to expand the Blood Queen's world and the legacy of Dracula to set the stage for events that will really challenge both characters. Blood Queen Vs Dracula #1 begins with an epic battle, from there the pace does slow somewhat, allowing further insight into Draculaís homecoming while continuing to build the suspense and mystique surrounding the Blood Queen as our anticipation for their eventual meeting grows.
Kewber Baal's art really shines, the concise page layouts draw you into the story, and the characters are well defined. The battle scenes are gloriously violent and bloody. Dracula is also quick to bring his own distinct brand of mercy to those foolish enough to have desecrated the soil of his homeland. Baal gives each location its own distinct tone and style, Castle Dracula is grand and darkly majestic, while the route to the Queen's chambers in castle Nadasdy are almost as ominous as her reputation. Kirsty Swan's rich colors complement Baal's work perfectly, the cool bleakness of the battlefield really highlights the carnage, while more subtle tones and clever use of light and shadow enhance the castle interiors and the brooding atmosphere tenfold.
Dracula's powers are also vividly showcased: from his swirling mist form, to raging powerhouse, and the stealthy uses of his bat form to reach castle Nadasdy, writer Troy Brownfield finds some innovative ways to use the character and his abilities. We gain further understanding of Dracula's realm, his most trusted allies, and his bloodlust following an unexpected interlude with a young woman, Leandra, whose blood is uncannily rich with violent magic and power, before the Prince of Darkness finally encounters the Blood Queen herself.
Debuting with covers by Jay Anacleto, Fabiano Neves, Ardian Syaf, and Lucio Parrillo, Blood Queen Vs Dracula #1 delivers an exciting and fittingly blood-soaked start to this brand new Dynamite miniseries. With its intricate story by Troy Brownfield and excellent art by Kewber Baal, this first issue is tightly plotted, and builds towards a momentous first encounter between the Blood Queen and Dracula. The premise of Blood Queen Vs Dracula is enticing enough; Blood Queen Vs Dracula #1 shows how much potential is there. Here's hoping it can match expectations and I look forward to seeing how this Dynamite miniseries develops.
---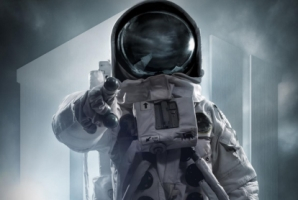 Paul Bowler is a self-Confessed Sci-Fi Geek, Doctor Who fan, and Zombie Disposal Expert. He likes movies, comic books, and all things PS3. He likes to write about his interests, would love to write a novel one day, and also enjoys chatting to the many people he has gotten to know on Twitter. When he's not busy being an Impossible Astronaut, he likes to take a break from his adventures in time and space to enjoy some of his favourite tv shows and movies, preferably with a nice cuppa tea & a sandwich! You can follow him on Twitter @paul_bowler, or find him at his website, Sci-Fi Jubilee.